Zodiac-Wise Christmas Decorations for All Signs
Deck your halls with happiness and the kind of decorations that match your astrological personality!
Don't lay your hands on just anything that is shiny or bright - create a happy atmosphere your astrological persona will enjoy most! Brighten up the holiday season in an unconventional way that will make your horoscope sign happy!
What is your sign's perfect holiday decoration?
Candles, cards, heirloom pieces or bows – which is every sign's most festive Christmas decoration? Read on and style up your home accordingly!
Aries
Reconnect with your inner child and let the little one in you out to play! Hang up angels with halos and feathery wings to your ceiling. Untangle the long forgotten fairy lights and decorate your windows and walls – you'll see how fast it will change the atmosphere from boring to festive!
Gold and red candles are also a good idea. Light them up to warm your home and please your eye. Or add another accent in red – tie gingerbread cookies with red ribbons to your Christmas tree. If you are living in a warmer climate zone, use fake snow to spray the bushes and trees outside to secure a white Christmas for yourself. If you have the real stuff, building a snowman will be best!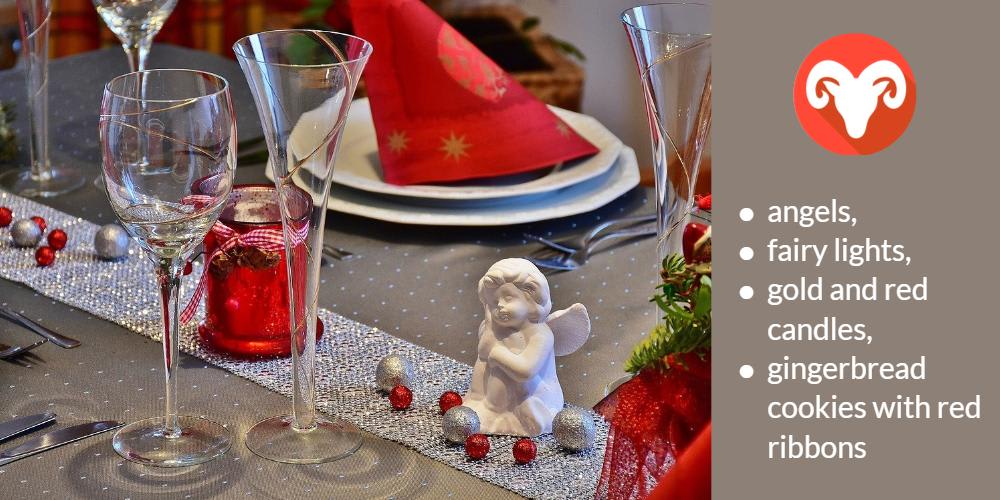 Taurus
Your sensual nature calls for luscious decorations: flowers, candied fruits, anything sparkling and bright. So, the best idea is to create a striking centerpiece and harmonize other decorations with it. But before you place the centerpiece, make sure your table is covered with a lush, satiny table cloth.
Find an elegant vase or bowl and fill it with silk flowers and matching candied fruit pieces. Add lots of scented candles for a final touch – the best fragrances for your sign and the holiday will be clove, pine and cinnamon.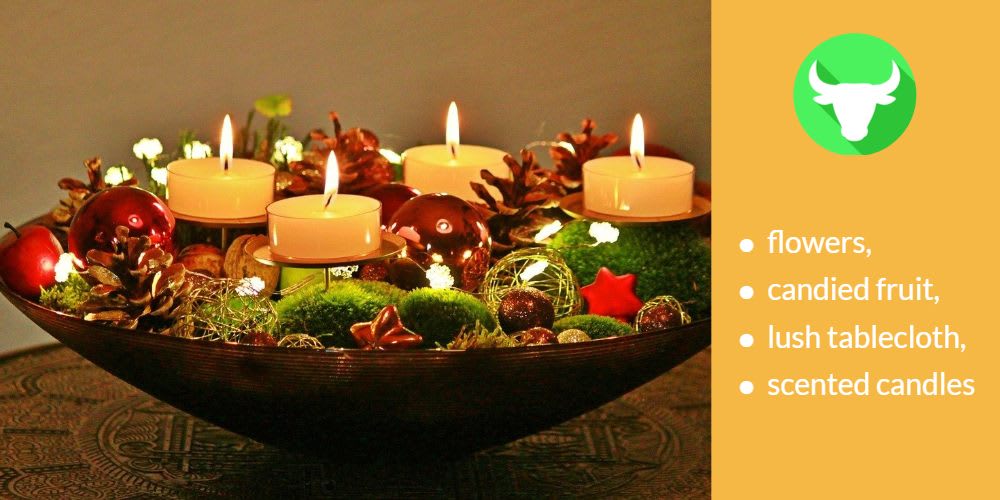 Gemini
Gemini is known for their skill of tying loose ends, so why not apply it to festive decorations? Tie a hundred of bright bows – not necessarily red and green – and arrange them around your home.
Alternatively, go for ribbons of all sorts. Hanging loose or in spirals, colored in plaids, florals, stripes, silky or metallic – choose a decorating scheme and follow a pattern to stay consistent and stylish. You can attach bows and ribbons to anything from chairs and candlesticks to plants and stair railings and doorknobs!
Cancer
Your romantic nature will drive you to decorate your home accordingly. Candles are a must! Don't just pile them up around – light them and dine by candlelight to make the most prosaic leftover dinner feel special.
It is also a great idea to gather your family around the fireplace at night and encourage them to reminisce about the good days of the past while decorating your tree with candy canes, silver tinsel or bubble lights. A family heirloom will make a perfect centerpiece, too.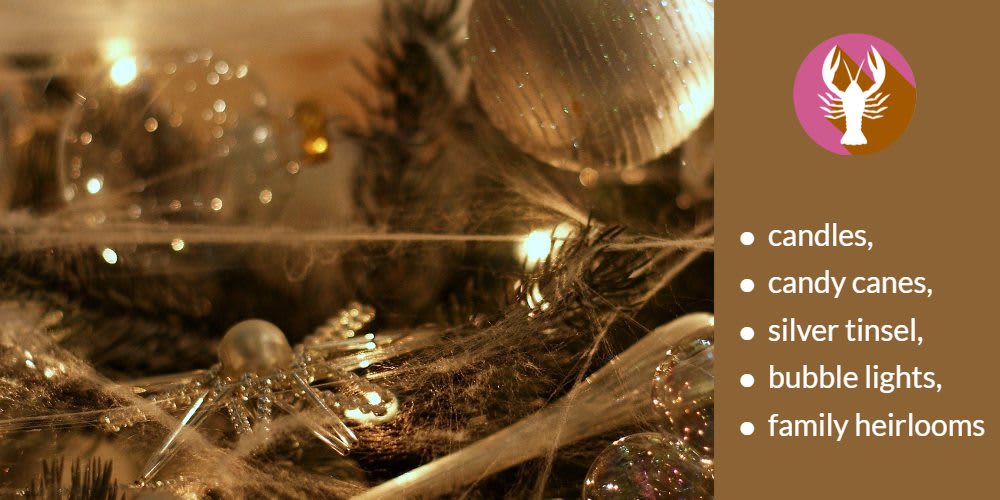 Leo
Jokes are your thing, so why not apply the same approach to holiday decorations? Get glow-in-the-dark paint and paint reindeer on your garage. Rope the painted figures in with colorful lights and add a blinking red bulb to Rudolph's nose.
Another blinking bulb can be attached to Santa's nose – neighbors passing by your gate will not be able to contain their giggles. If you have kids, give each a small personal Christmas tree and decorate it together with tiny toys, sports items or dolls and fairy lights.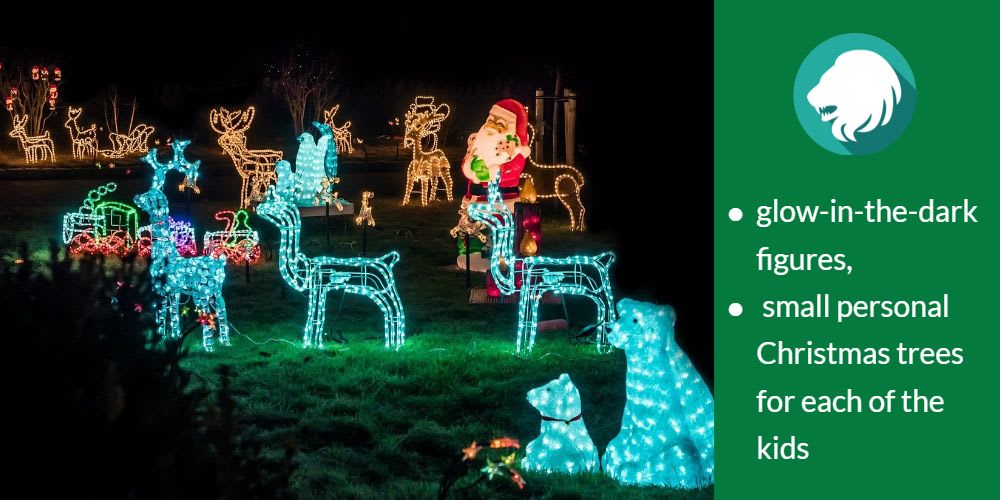 Virgo
The Christmas tree will be the pivot of your holiday decorations, so focus on the choice first. Go for a natural one, freshly cut or planted in a pot. Buy from local farms to cut down the transportation miles; support greener practices.
For decorations, use natural items like popcorn on a string, gingerbread cookies, or holly. Steer clear of fake snow and tinsel – you want your tree to stay eligible for recycling. Another great idea: use a rosemary bush or an ornamental tree in place of the Christmas tree to replant it in your yard or a park when it gets warmer.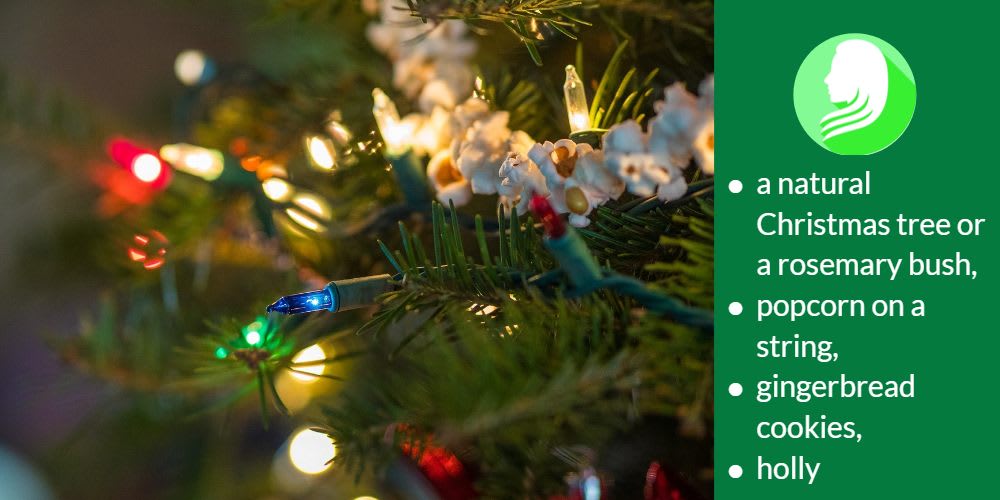 Libra
You love everything decorative, so the holiday season is your chance to set your creativity ablaze. You have a lot of pretty things at home –use them instead of cheap sparkling stuff to create a festive mood.
Eat every meal throughout the season from holiday tableware? You sure have a couple of festive dishes in your cupboard; if you don't, it's time to buy some fun new designs and mix them with your crockery. Don't forget about candlelight – it will make a special dinner even more special.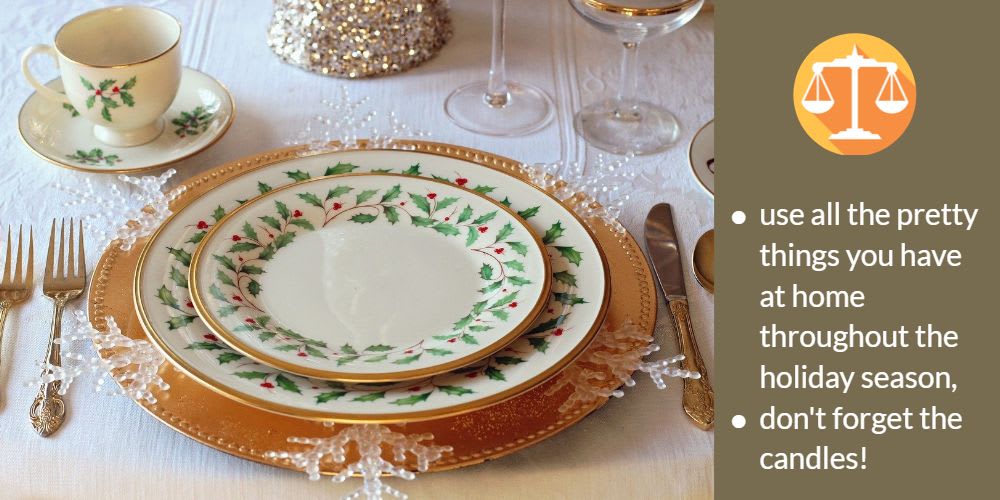 Scorpio
You are a warrior by birth, but peace is one of your life priorities. With this in mind, what will you decorate your home with this Christmas? The answer is: white doves. Hang them from your ceiling using invisible yarn; you can also put strings of beads in their beaks to make it look as if they are flying to decorate your tree.
You can also perch doves on your Christmas tree, let them sit on your mantle with a banner that says "Peace on Earth" hanging above. For a perfect final touch, buy and send holiday cards with matching images and words.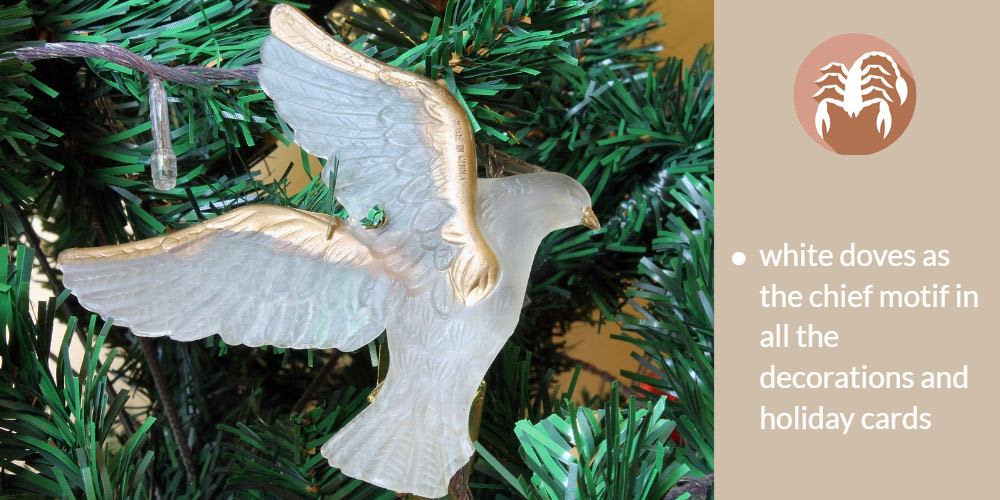 Sagittarius
You have a welcoming nature, so your perfect Christmas decoration will be a holiday wreath. You can not only hang it on your front door, but arrange a dozen smaller ones about the house in unexpected places like the bathroom.
Make wreaths using various natural materials: fresh eucalyptus, evergreens, pinecones, holly and fruit – you want your home to not only look, but also smell festive. Hang a personal wreath over each of your kids' beds to help them see happier dreams.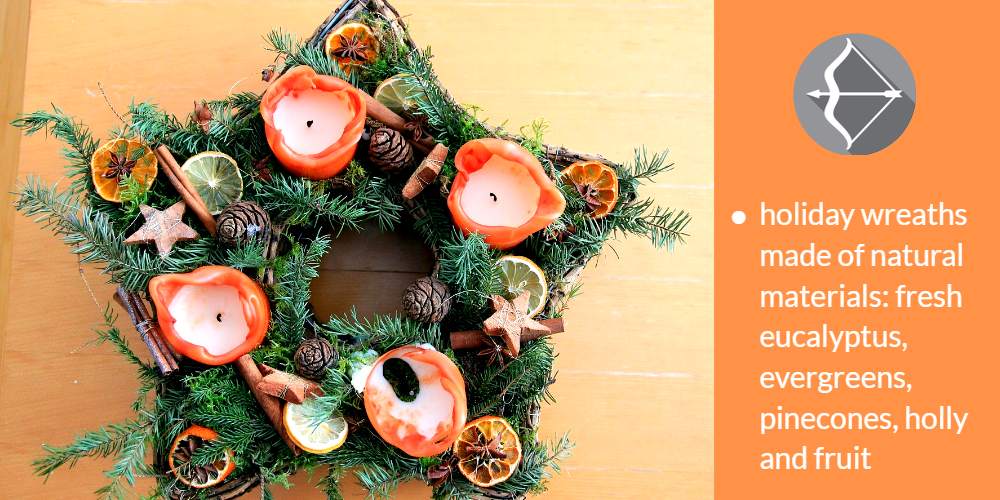 Capricorn
Your home decorations should be very elegant to match your nature. Add an old-fashioned touch by using antique pieces or heirlooms. Everything should be themed and matching, very well thought-over.
Start with the table cloth – the fabric should be lush and beautiful. Top it with an heirloom centerpiece that will evoke happy childhood memories. Buy a vintage serving tureen and fill it with fresh seasonal flowers or poinsettia. Your tree should also feature some antique ornaments.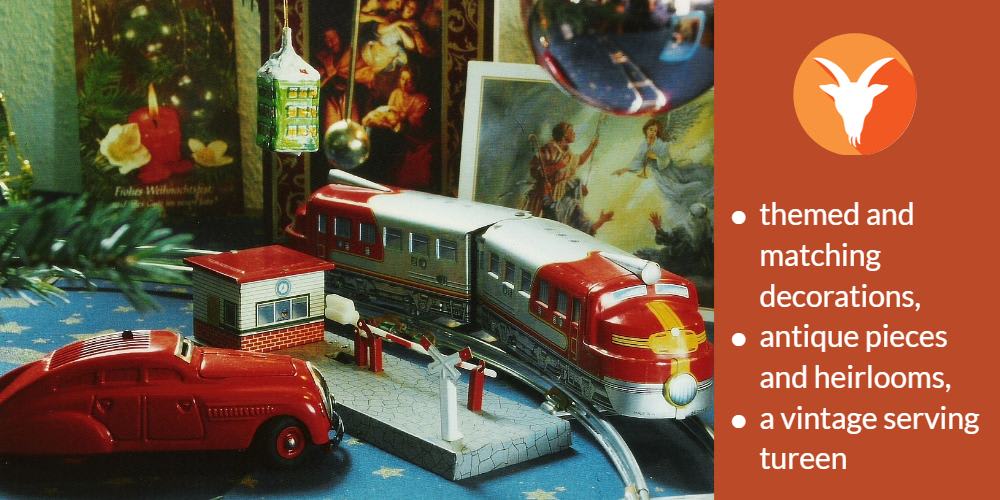 Aquarius
You have a good eye for decorations and a designer streak, yet you need something totally unconventional to be pleased. Go for holiday cards – vintage or modern, the ones you saved from previous holidays or brand new ones.
Choose the cards that look pretty together. Hang strings around your home – in the doorways, above the mantle, across the rooms - and arrange the cards on these strings. Tape them closed to keep the words hidden from the public eye. For a lusher look, add a sprig of greenery or a bow to the door frame corners.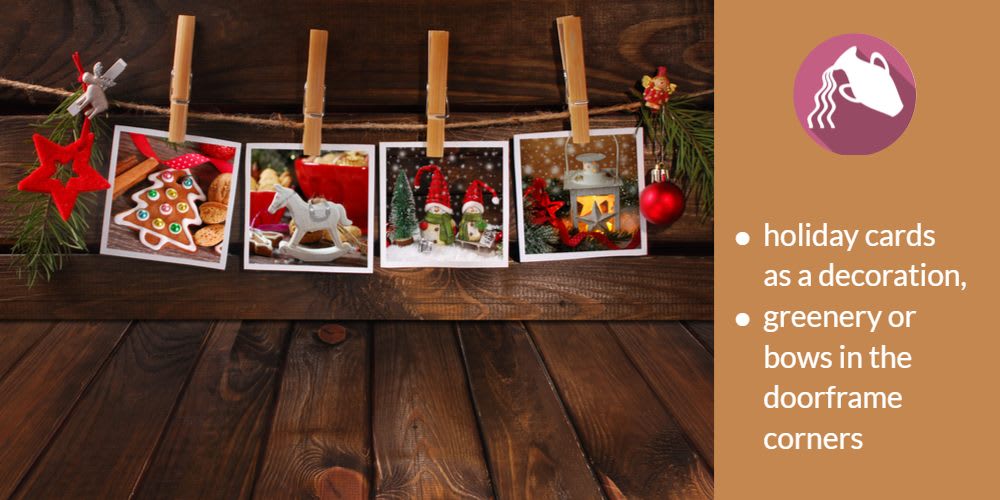 Pisces
You will certainly like exclusively white decorations for your home this Christmas. Fake snow for the tree, clear fairy lights, white ornaments with occasional flashes of silver, transparent icicles made of glass – keep it clean and classy.
For a counterpoint, use red berry sprays. White candles will amplify the effect; a glossy, pale white cloth on your table will look perfect. Top the table with bunches or pink and red poinsettias to create a striking contrast.
Understand your future with runes
How will your life evolve over time? Ask runes to find out!
Ask runes now