Your Perfect Winter Getaway
Learn what winter activity will give you thrills and chills!
Winter is coming, and it's high time you started planning your ideal winter vacation. What activity is the best one for the people born under your sign?
Top winter activities for your sign
Make the snowy days unforgettable with these awesome entertainment ideas to spark your winter spirit!
Aries
Belonging to the most active zodiac sign, you want your perfect getaway to be as mobile as possible. Your ideal winter weekend should necessarily include something like skiing or snowboarding because these activities help you to feel alive. You'd be glad to see some of your numerous friend join you.
Some Aries natives, however, like to stay alone for some time and this applies especially to the people with many responsibilities. Others prefer group activities that give them a chance to become the only and unquestionable leader and set an example. Which way would you choose? It's up to you to decide!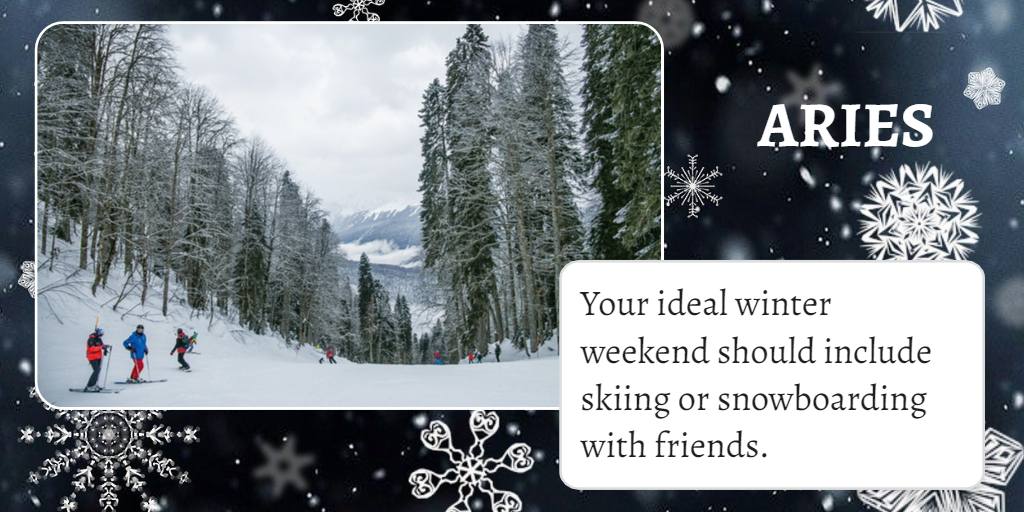 Taurus
You're a very sensitive person who loves luxury and sensual relaxation. A great option for your winter holiday is a massage or an hour spent in a soaking tub as these simple pleasures will help you achieve total harmony between your mind and your body.
You like to plan things in advance, so in order to make your vacation absolutely cloudless map out every single detail beforehand and stick to your initial intentions. It will help you save much time during the holiday itself and will free you of unwanted worries while you're having rest.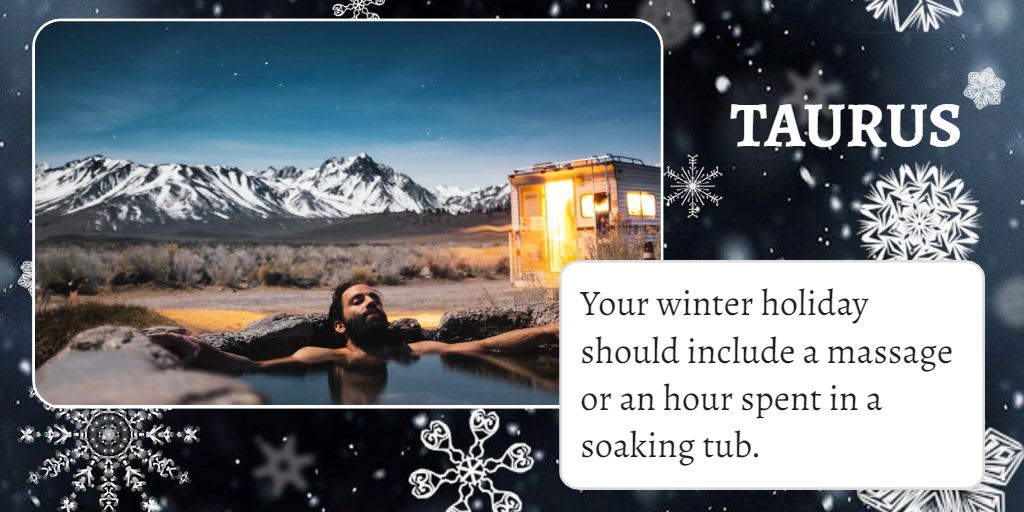 Gemini
Gemini natives are fond of history and old things, so this winter pamper yourself and visit a place of history located in your city or nearby. Another good variant is going to some educational attraction that will stimulate your mind and give you an opportunity to learn something new about your ancestors.
These activities will keep your brain satisfied and fill it with heaps of new information. If you want your historical trip to be even more pleasant, take it with a person who loves to travel fast and would like to discuss all historical details with you.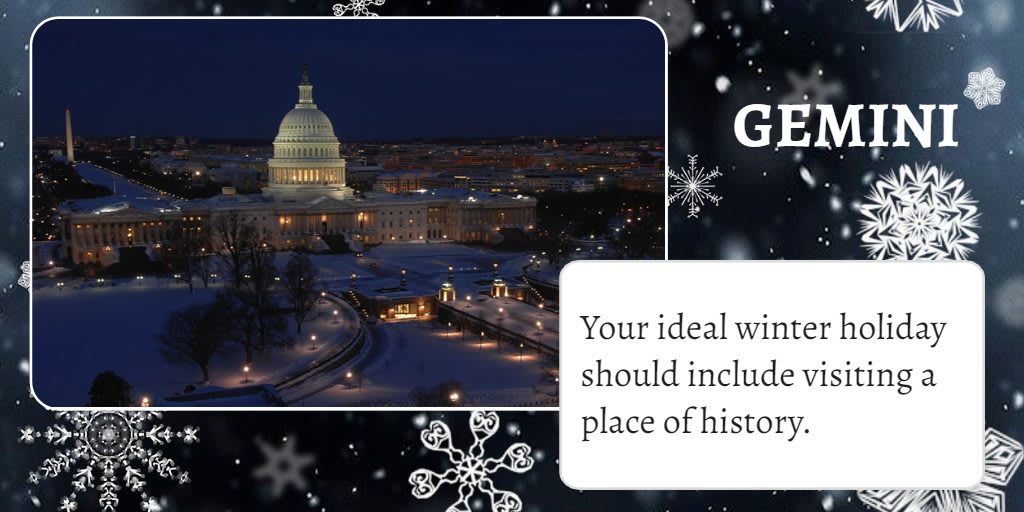 Cancer
Cancerians are highly sentimental people, which means to feel truly happy they need to revisit places that are associated with good memories. If you want to make your vacation totally soothing, book a room in an inn that overlooks water. Don't forget to take a thing that helps you feel more comfortable – something like a pillow or a candle.
This simple step will help you easily transform the place you're staying at into one of the coziest places on earth. Besides, an idea to take a friend with you would be a great one, as it will make the journey more adventurous, memorable, and fascinating.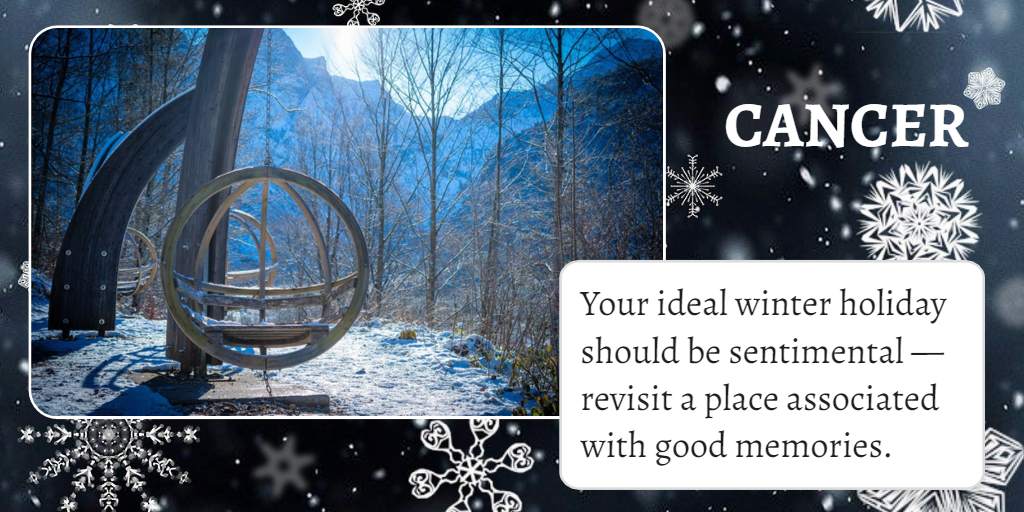 Leo
The most royal of all signs of the zodiac, Leo wants to be treated like a king or a queen any time and at any place. Take note of the fact and this winter visit one of gorgeous Las Vegas hotels that have special royal suits for special guests. You're definitely one of them!
It's normal to gamble with abandon at such places, that's why they will cater to your every whim and will help you feel like a true royalty. You'll also get an opportunity to try lots of indulgent services and see which of them suit your kinglike nature best.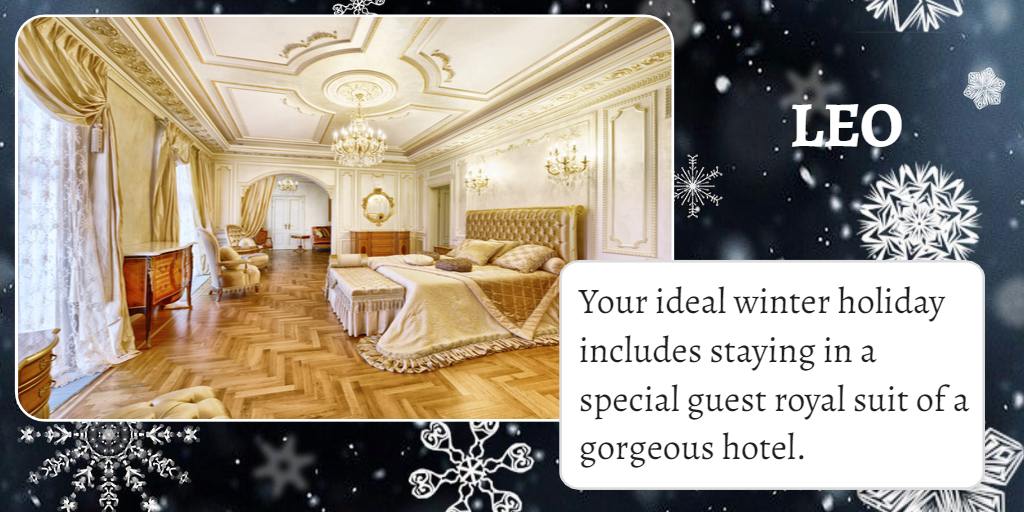 Virgo
You want your weekends to be planned in advance, and the winter season is not an exception. It's not a hard task for you to try lots of different activities in just two days of rest. The more relaxing they will be the better for your body and soul.
Practice something like a health spa, a yoga class, or meditation. These simple yet effective methods will renew your body and help you forget about all problems you may be suffering from. Spend more time outdoors if possible if it's not too cold outside.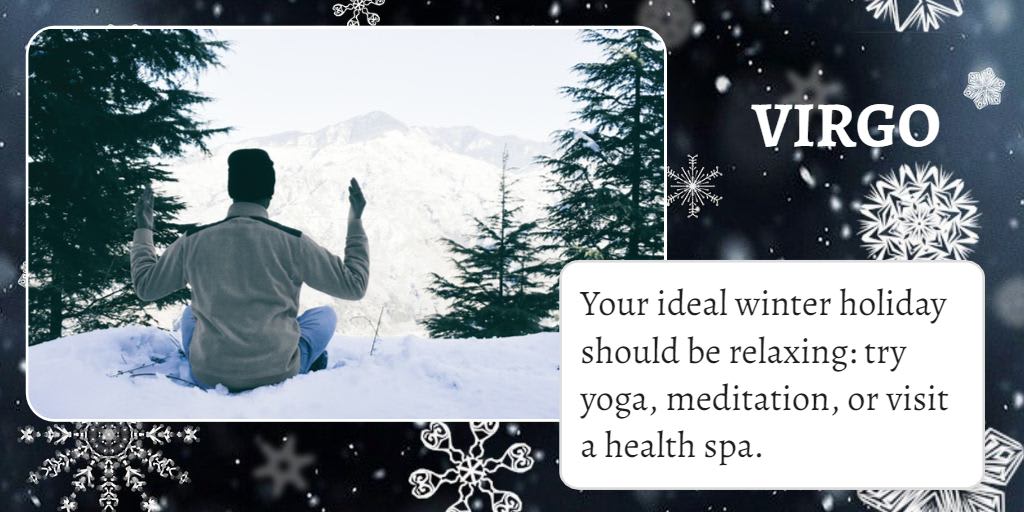 Libra
Romantic Libras like to travel to the past imagining themselves queens who live in an old castle or pirates who prowl the oceans. If it's true about you, make these dreams come true, at least partially. Take a sea cruise or visit a historical place that will fill you with inner harmony.
A romantic getaway is a good idea, too. Take a break and invite your sweetheart to spend a couple of days at a place that is special for the both of you. You know it well that maintaining peace in your relationship requires much time and effort, so find some time for just you two.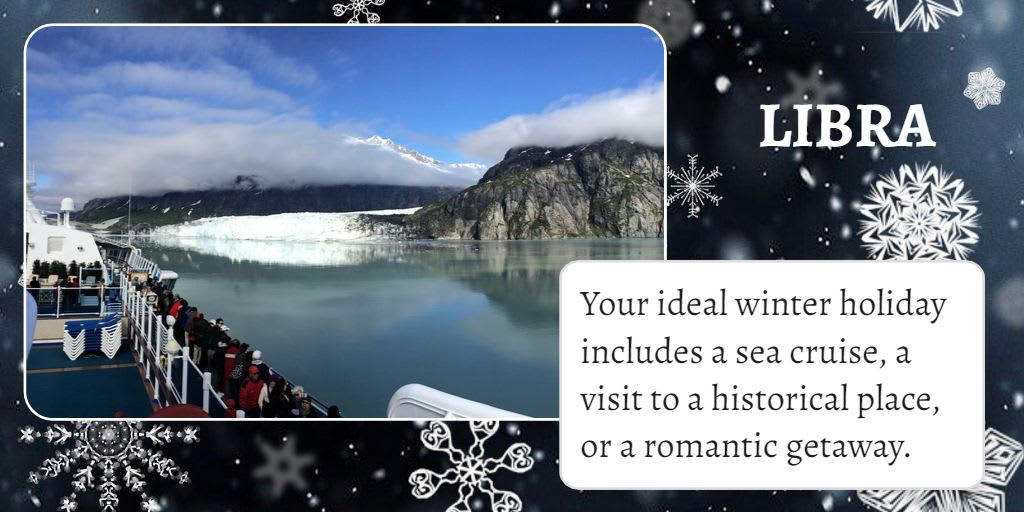 Scorpio
Dark matter attracts you more than anything else, that's why you love to spend time walking through dark alleys solving the mysteries of the past and present. Many cities offer special tours to their most mystical places – choose Baghdad, Sydney, or Paris.
If you aren't ready to travel so far, choose a place closer to your place of residence. There are definitely dozens of interesting locations not far from your city or town that have an unbelievably intriguing past. In winter, these places are sure to look even more fascinating.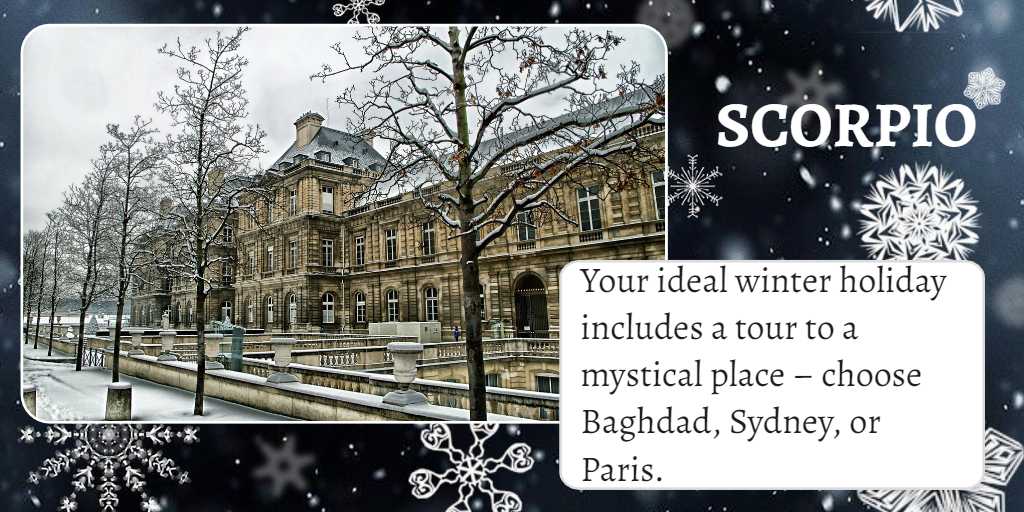 Sagittarius
Your best destination should be both adventurous and giving food for thought. The perfect variant is climbing to a mountain peak and talking to a guru able to explain to you the true meaning of life. If Mount Everest is a bit far to travel to, think of a closer target.
Sagittarius natives are among the people for whom every day is great for traveling. A long journey for you is a good chance to become stronger and more resilient. You can also try something truly exciting like whitewater rafting or heli-skiing. Remember how awesome these activities are!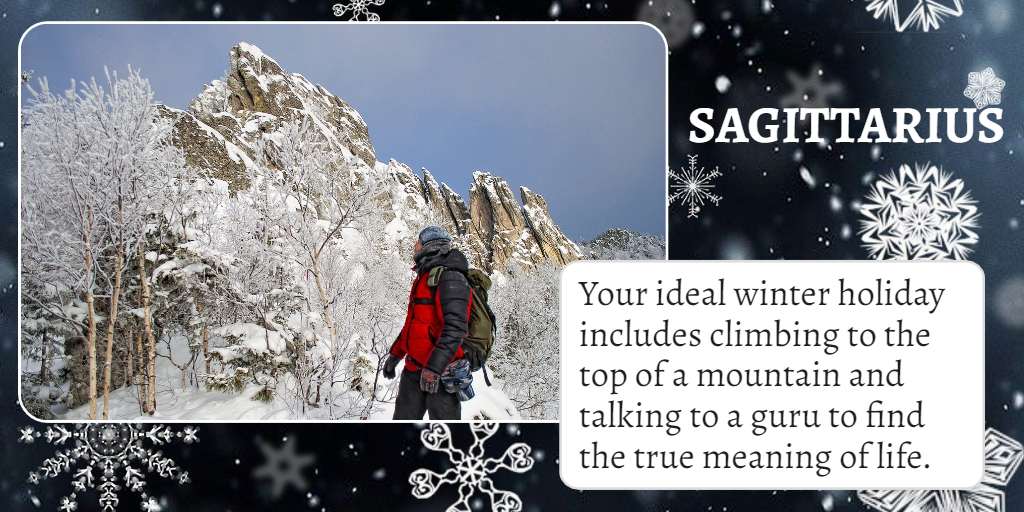 Capricorn
The biggest challenge for a Capricorn is to take a break from work as these guys are known as the greatest workaholics of the zodiac. If you finally decide to have some rest, choose a glamorous destination like Paris, Tokyo, or Dubai. Take a couple of friends along to make your time spending truly amazing!
You love to catch people's eyes, so invite your closest friends to join you in your journey to have greater fun together! If you have the urge to continue working even when you're having a rest try to resist this temptation and dive into the deep ocean of entertainment.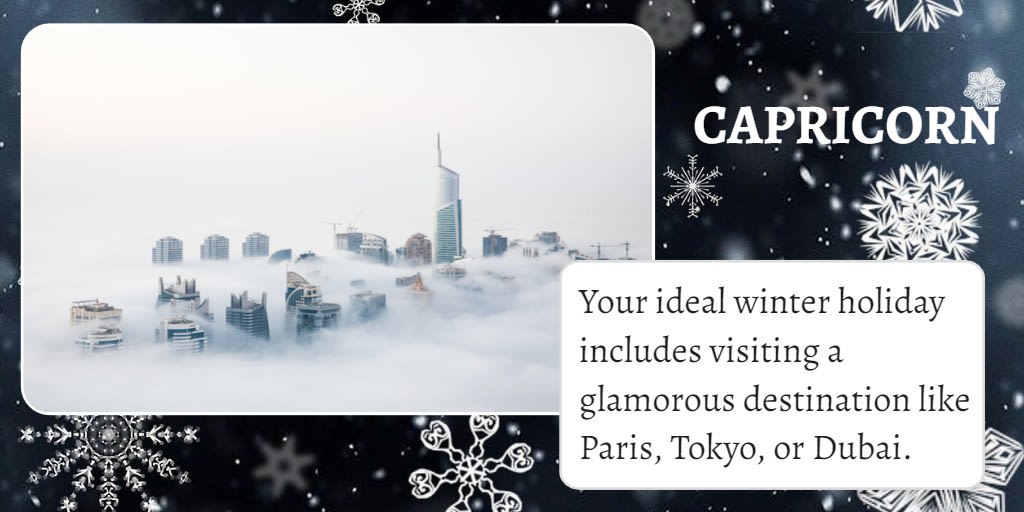 Aquarius
You're eager to spend more time in nature and help others, so during your winter weekends you may unite these passions and do something really great for the local tree huggers. You can become a volunteer and not come amiss working on an organic farm feeling absolutely happy.
These simple activities will help you make new friends and establish new social connections as this is another thing you need greatly in your life. Use your winter holidays to expand your horizons, visit new places, and make your travel adventure totally unforgettable!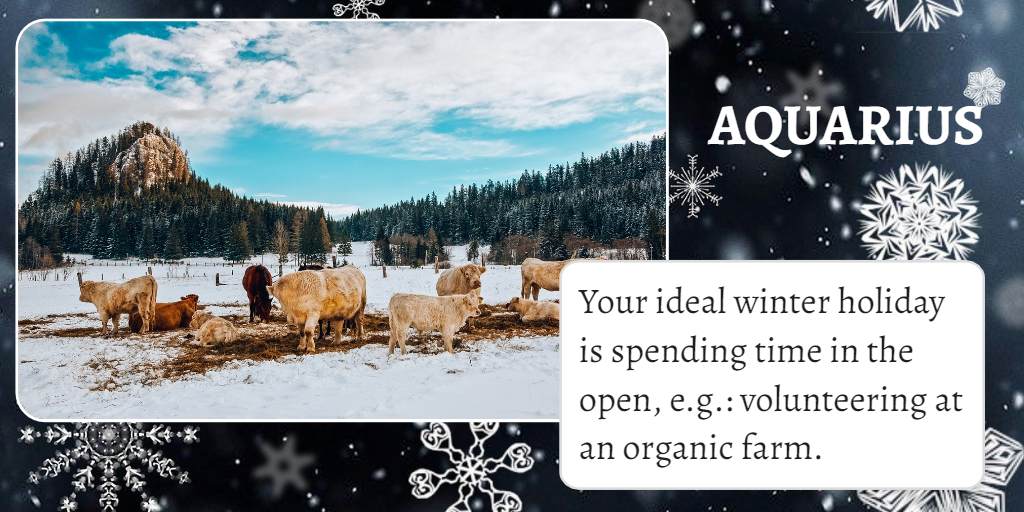 Pisces
You prefer to go with the flow, which means you don't need a special detailed plan for your winter getaway. You're greatly inspired by the destinations that are located close to a water body. Add some good music and art to make sure your holiday is really cool!
Take a trip to a quiet seaside town, visit its small galleries and museums, have a sunset boat tour, and finish the day in a small café together with your significant other. A romantic holiday is the best holiday a Pisces person may have, and is definitely the most memorable one.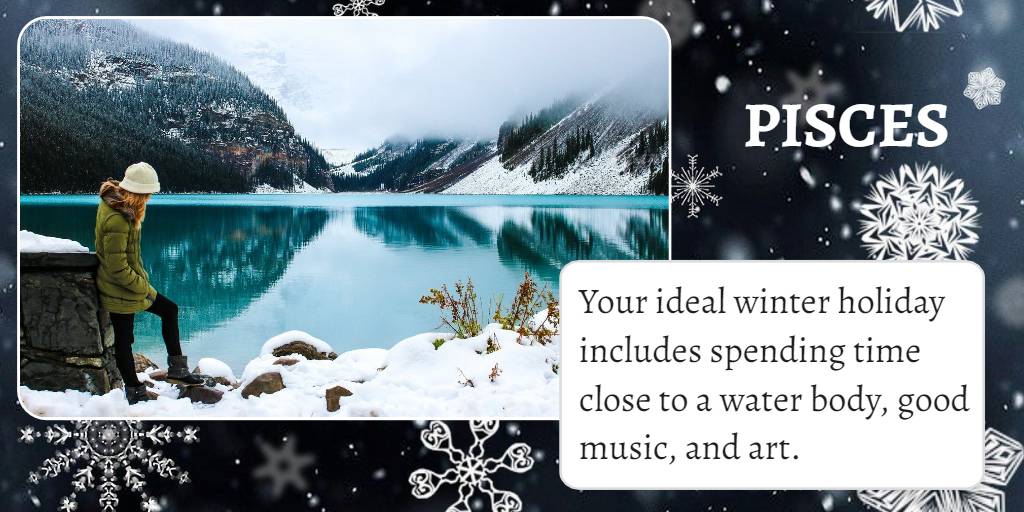 A big and profound Tarot reading - try it now!
Explore your personality with the help of Tarot. Ask any question now!
Get a deeper reading