Tips to Beautify Apartment for Every Zodiac Sign
Turn your apartment into the coziest place on earth!
From time to time everyone wants to introduce small changes and make the place he or she lives in cozier and more comfortable. What decorating tricks should you use according to your zodiac sign?
Snug apartment ideas for every zodiac sign
People of every sign want to enjoy the comforting atmosphere of their home. It's incredibly easy to make your home truly comfortable – just follow these easy and useful decorating tips for every zodiac sign and turn your apartment into the best place in the world!
Aries
Aries are highly dynamic people always ready for a new challenge or a vigorous fight. This zodiac sign is associated with fire, that's why most Aries are attracted by fire colors like scarlet, ruby, or other red shades. When choosing an interior, pay attention to red or red-brown accents, oval mirrors and other mirror surfaces, and various stones and boulders that can change the atmosphere of your room and make it truly Aries-like. The flowers that will suit you best are definitely cacti, as they will reflect your power most accurately.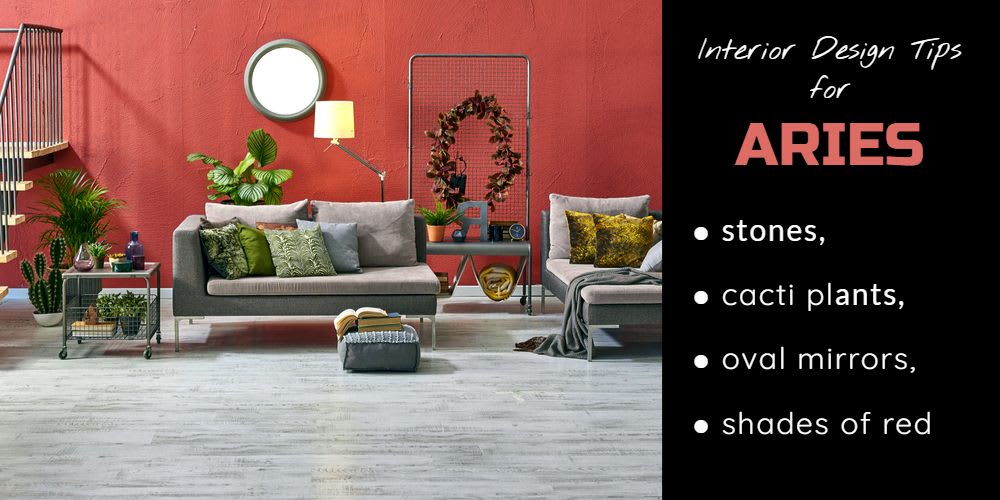 Taurus
Taurus is an aesthetic, patient, and purposeful zodiac sign who appreciates comfort most of all. The symbol of the sign is the bull, and therefore Taurus admires shades of brown and green, white, and blue and pink pastel colors. When choosing the color for your walls or for your furniture think of earthy-brown, as it will help to make the room look more nature-like. Speaking about textures we'd recommend you to choose organic woods complemented by some comforting materials like fur. It'll make a simple but efficient step to turning your room into a perfect Taurus place.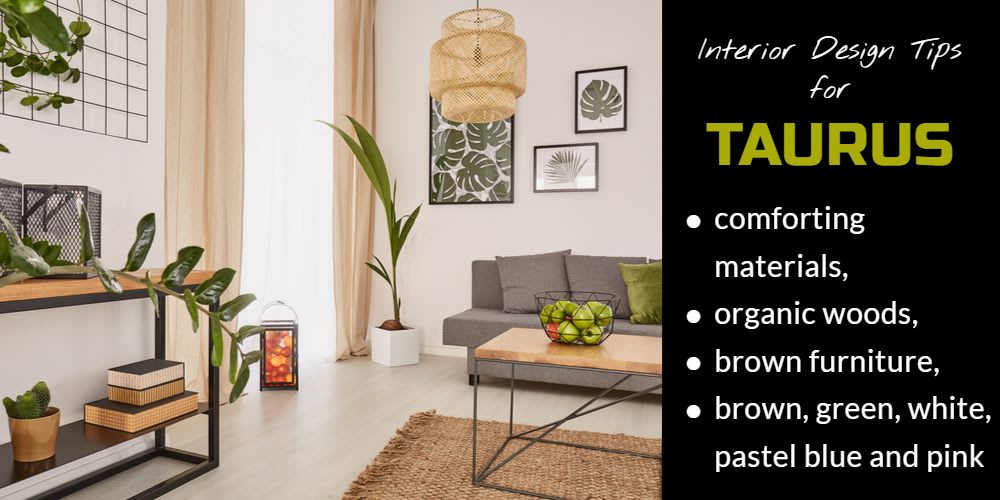 Gemini
This air sign is very curious and constantly looks for something new, but on the other hand is rather intelligent and enjoys fun. How to please such a well-rounded person? First think about the colors – the patterns should not be kaleidoscopic, stripped, or spotted, and the colors themselves must be tender and pastel like sky blue or dusty pink. As you're fond of various prints and can easily mix them creating incredible pictures, try all kinds of patterns in all rooms of your apartment to make all of them similar but totally different in their purpose and atmosphere.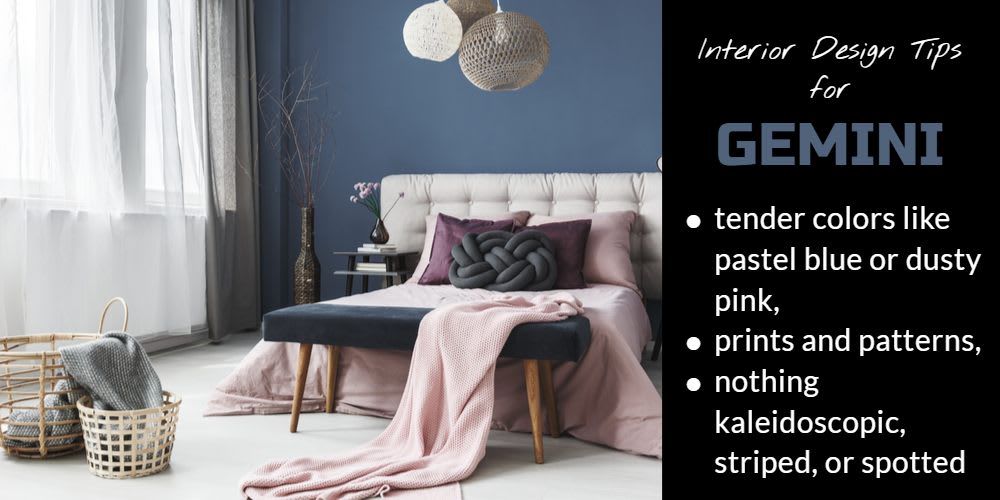 Cancer
A person of this water sign is very cautious with new people, is prone to mood swings, feels and understands more than other people do, and possesses extraordinary inner power. If you belong to this zodiac sign you can't stand too bright or too grim colors preferring soft shades like milky or pearl white. To decorate your room opt for calming grays, as they will add to the cozy atmosphere of your place and will help you to feel safer when at home. There is no need to paint all the walls in white and gray, though, as tiny beautiful things of these colors will be just as good.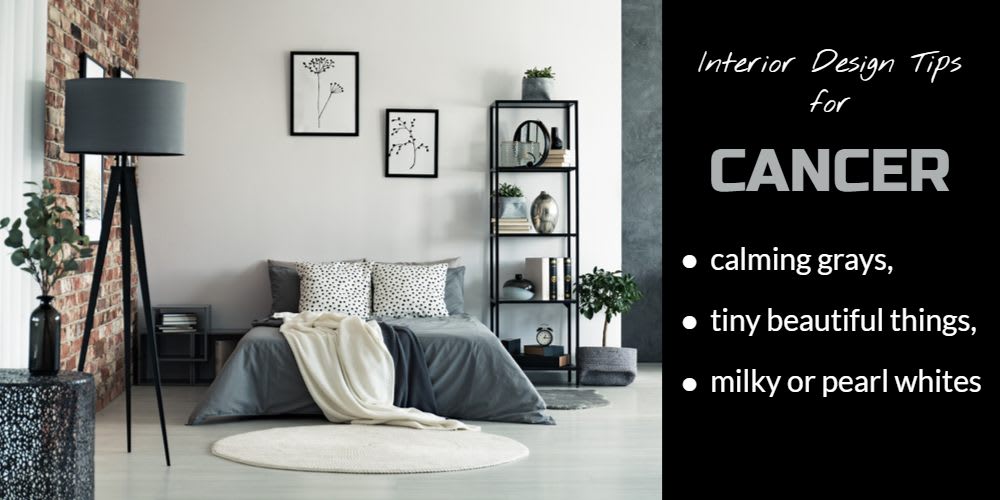 Leo
Leo is known as a highly ambitious, expressive, and passionate zodiac sign who adores risk and adventure. This summer sign prefers summer colors like different shades of gold, orange, red, and lemon yellow, so keep this in mind when deciding on the colors for your bathroom, your kitchen, or your living room. Even a small piece of furniture of bright yellow color will make the room warmer and livelier. In case you want to make big changes in your interior remember that bright pieces with an elegant background will emphasize your expressive and dignified personality.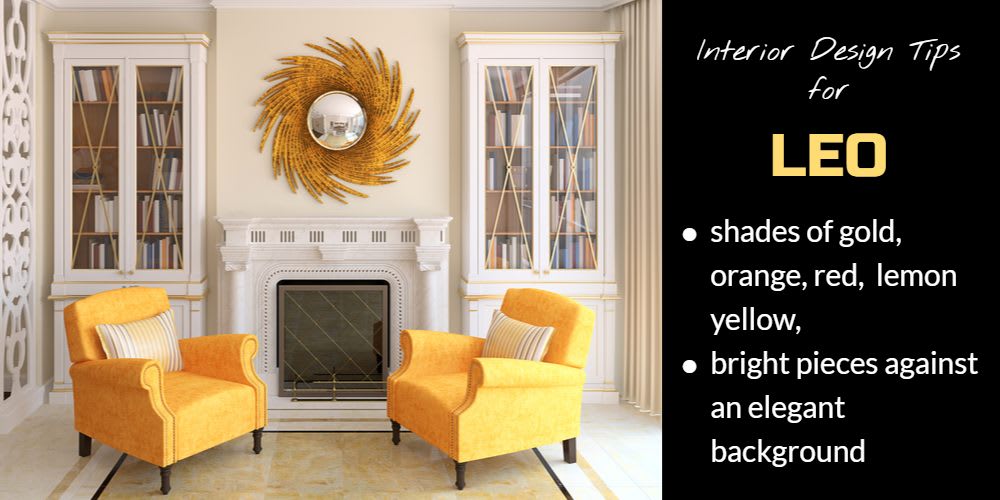 Virgo
The words that describe you best are sincere, choosy, highly critical, and a true lover of routine. Luckily, there are many colors that reflect your personality in the best way, starting from all possible shades of white to other natural colors like soft blue and green, or indigo and golden. You need your room to look as though wrapped up, that's why choose precise geometric patterns against the background of deep indigo walls. Drawers are the things of major importance for a Virgo person, so be very attentive and careful when choosing them.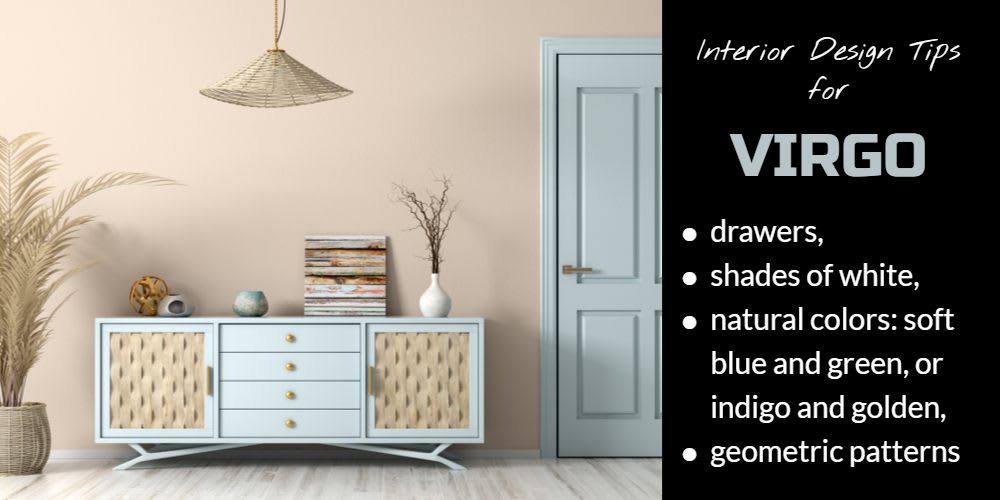 Libra
Libra is the sigh who is able to appreciate estheticism and design more than any other zodiac sign. Cultural, intellectual, and stylish Libra constantly seeks for balance and harmony, and is attracted by all shades of blue including bird egg blue, periwinkle, baby blue, or ultramarine. In case you choose some of these colors for your apartment you'll find it extremely easy to select the background for them, or to find the furniture that will help these blue shades radiate like stars. Don't forget that to make your room a brighter place you don't need to change the whole of it, just buy a few things of the target color that will delight your eyes.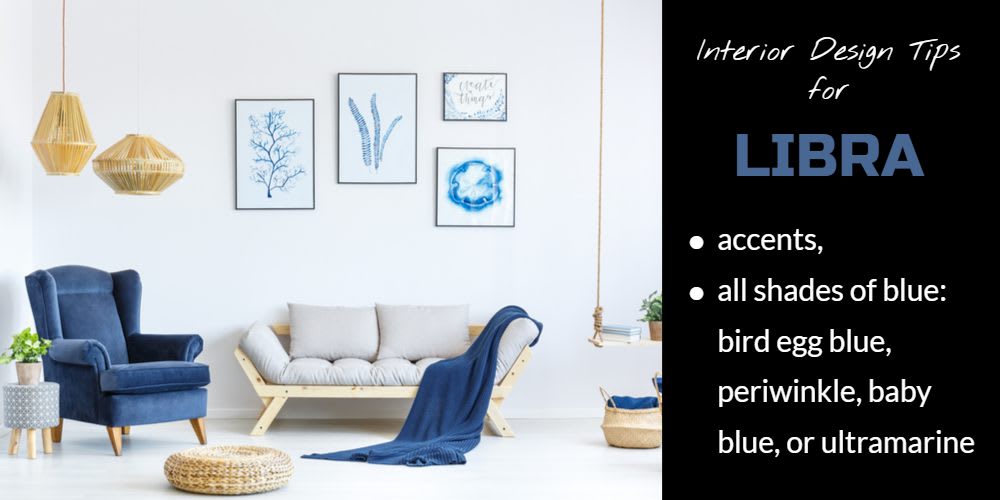 Scorpio
Probably the most complicated of all signs, Scorpio is known for its dangerous reputation. A hypnotic, deep, and extremely emotional person, Scorpio needs powerful and intense colors to reflect its profound personality – rich red and brown, maroon, black, forest green, or jungle green. A room filled with these rich shades will reveal your complex nature, and help you feel at ease. Black color will work well not only in small quantities – a black wall will be a bold statement, but will at the same time uncover your true identity.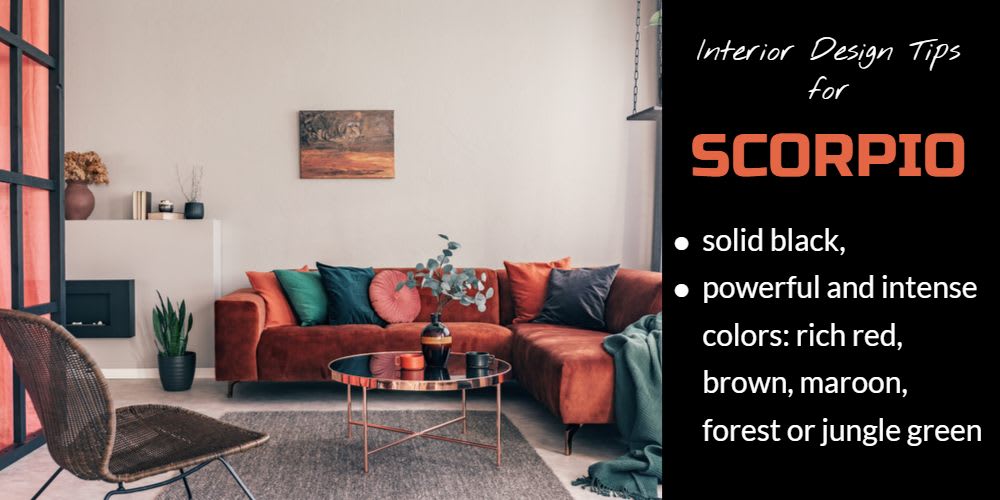 Sagittarius
Sagittarius is one of the friendliest and most social zodiac signs, and can be described as a cheerful, honest, and lively philosopher. When choosing the proper color for your apartment think about purple – the color of spiritual knowledge, purple will make your place much cozier than it's now. Other colors that will suit you are deep orange and yellow, as well as royal blue and red. In case you want to make your room the best place in the world for you try to paint it in purple of fill it with lots of purple accessories. Other important ingredients за a cozy place for a Sagittarius are some worldly accents like African masks or Mexico figures.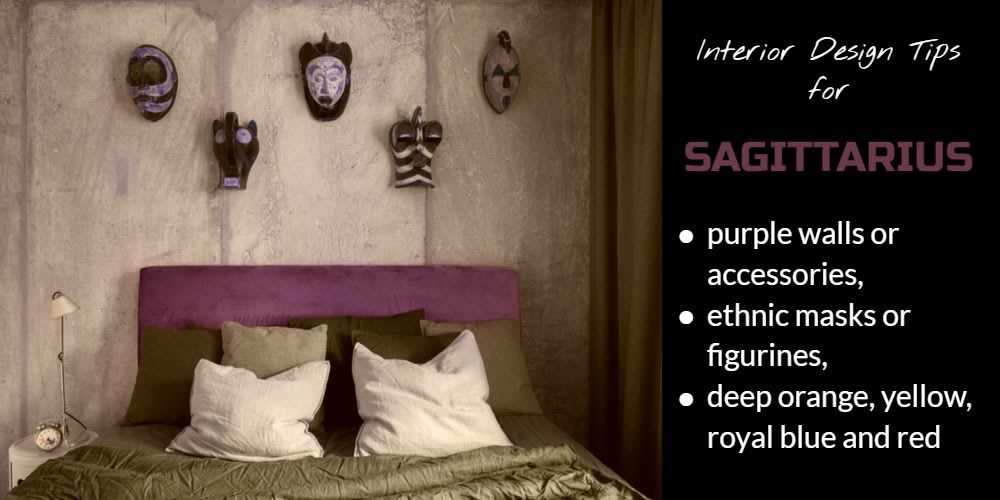 Capricorn
The stubborn goat attempting to climb the highest mountains reflects Capricorn's tenacious personality. This hard-working, persistent, and resourceful earth sign demands earth tones and shades, but in a bit different spectrum – gray, black, gold, or dark blue and brown. The three colors – brown, black, and navy – constitute the basis Capricorn should follow to make his or her apartment look exactly as he or she needs. Brown shades may be totally different, from copper to leather, as well as the other colors. This palette is truly foolproof, and reflects the earthly and enduring personality of this sign.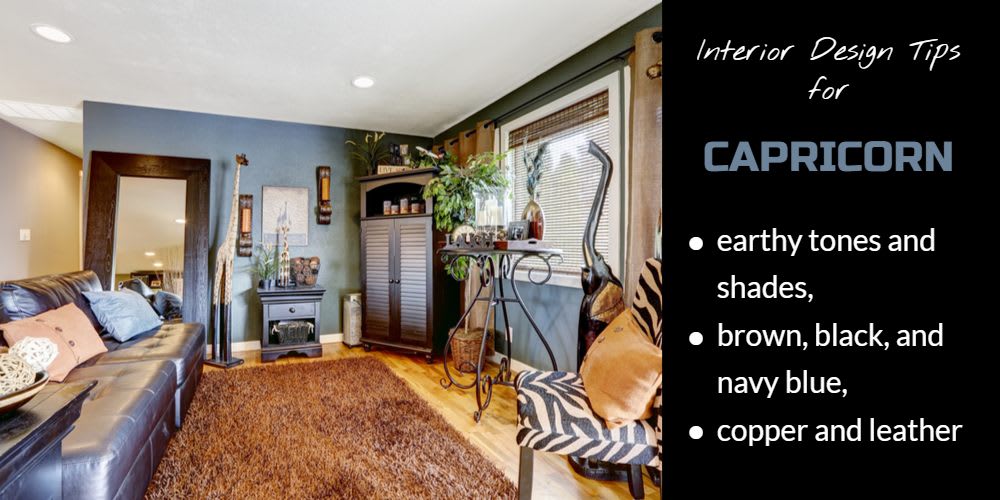 Aquarius
This water sign is highly unconventional, humanitarian, and truly visionary. The tendency for visual world perception makes metallic gold and silver, as well as electric shades of blue, violet, and purple the favorite colors of this bright zodiac sign. You want to expand creative limits and try to stimulate your mind when it comes to the design of your apartment. Stunning metallic and electric colors are the ones that attract you most, and you need them to feel at ease at home. There is no need to paint the whole room in silver, though, as a silver chair or a silver table can work just as well.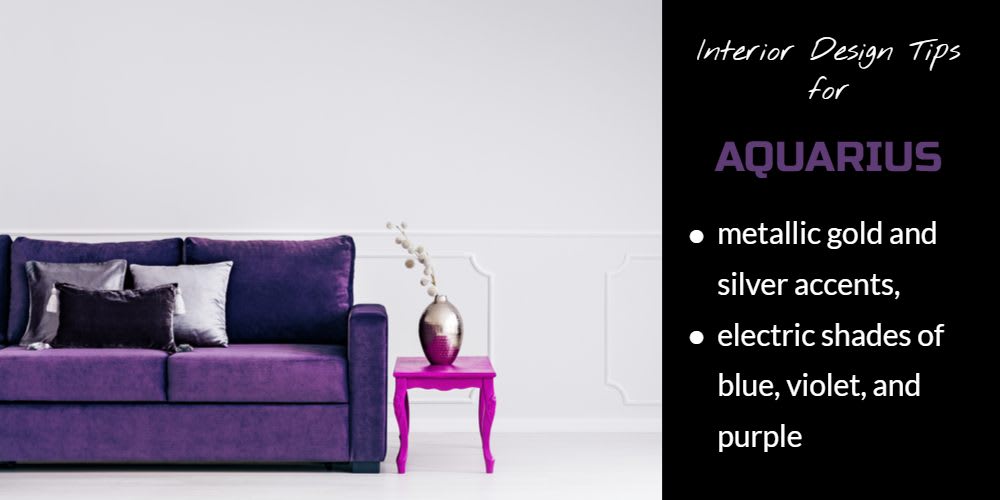 Pisces
Your personality can be described as devoted, enchanting, and mysterious, that's why the colors that you need to feel comfortable are very inspiring – moss green, pearly, sky blue, ocean green, or dusty pink. These colors, as well as other colors that will make your room lit from within – dark blues or shiny metallics – will emphasize your imaginative and expressive personality. Add a few small green elements to your apartment to make it a bit closer to nature, but don't go overboard – three or four figures will be enough.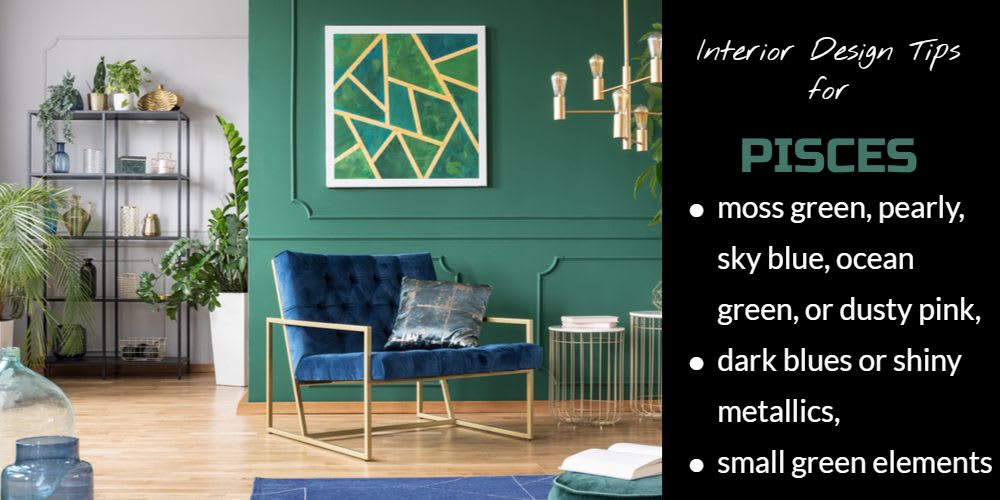 Explore Your Destiny With Runes
Rune reading is one of the oldest, most accurate, and spiritually loaded methods of divination that has come from northern Europe.
Try Now!