Fortune Horoscope: Love in December
Discover the romantic possibilities and heartfelt moments you are going to experience in the upcoming month!
Whether it's unexpected connections or deepening bonds, December's love horoscope unfolds with a promise of emotional experiences.
December Love Horoscope for All Signs
Let the calm guidance of the stars lead you through this serene journey of love, where each sign is poised to encounter the unique magic that the month brings. Find your sign and discover how to be happy in love this December!
Aries
In terms of romance, December will not be an easy month for Aries natives. Challenges are lurking in your love life, and they will come out of hiding when the first week of December is over. But the influences of celestial bodies, especially the planet Venus, will help you deal with any issues that stand in the way of your happily ever after. Just be careful, watch your step, do not go looking for trouble, and always talk things out to avoid misunderstandings, for confusion can lead you to a slippery slope.
Taurus
December brings challenges and misunderstandings to the romantic arena. Your relationship will have mood swings; ups and downs will not balance each other out, and some downs will feel especially hopeless like they might be the final straw. However, you should not give up on your relationship, for Venus will come to the stage in late December and fix many of those issues.
Gemini
December will start as a romantic bliss, and then, after a week, things will go south due to the harmful influence of Mars. Your relationship will be tested, and to pass this test, you'll have to stay calm, exercise patience, and, instead of arguing and nursing grudges, look for the reason for your misunderstandings and problems. If you do just that, everything will be sorted out before the holiday season begins.
Cancer
This December, your love life will be influenced by two forces not exactly opposing each other but not agreeing either: Venus and Mercury. Venus promises to improve your relationship by helping you be more empathetic and understanding of your partner's feelings – and you can expect the same treatment in return. Mercury, on the other hand, will cause some challenges, irritations, and moments of discomfort. But if you turn a blind eye to these minor issues and take a vacation together, nothing will stand in the way of a happy romance.
Leo
December is a perfect month to experience romantic bliss. Yet, the positions and movements of celestial bodies can muddy the waters of your love, dear Leo. Luckily, you can resolve any issues if you approach them together as a couple rather than individually and try to put on each other's shoes to fully understand the circumstances.
Virgo
For Virgo sign natives, December promises to be a month of pure bliss. You can expect your relationship to be happy – and quite effortlessly so, too, but you and your partner need to stay on the lookout for external problems that might arise as clouds on the clear sky – completely out of the blue. To avoid those, consider going away on a romantic vacation and spend some quality time together to tune in into each other's feelings and achieve a whole new level of empathy and understanding.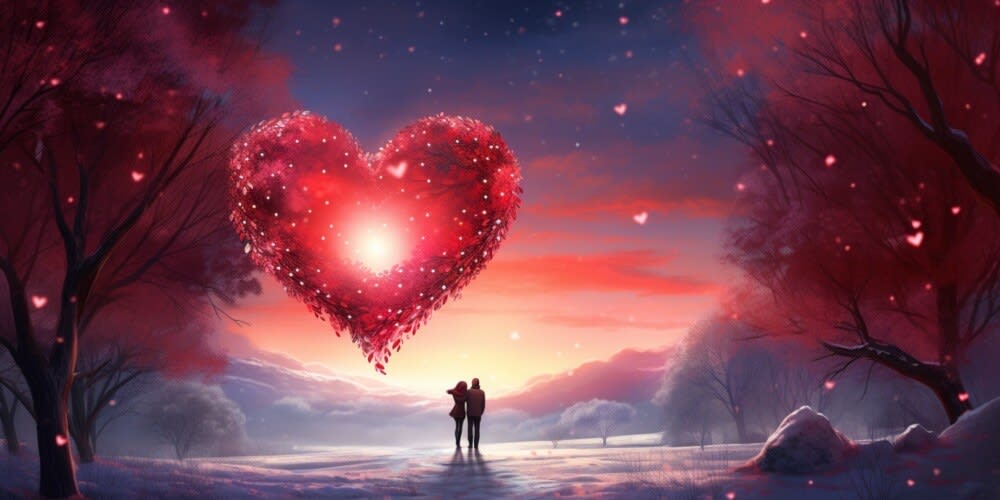 Libra
This December is not the most eventful month for Libra in terms of romance. You and your significant other will not be emotionally on the same page, or your relationship will be a bit flat. Try to wait out this underwhelming period and ensure you keep showing your love to your partner, even if you are not exactly bubbling with happiness at the moment. This will support the foundation of your relationship and mutual trust.
Scorpio
A bit of extra focus on your romantic relationship will be required from all Scorpio natives this December. You want to show your significant other how important they are for you, how strong your love is. If they feel they can rely on you, there won't be any emotional tension between you two. And then, you can further improve your relationship by letting bygones be bygones. Every couple has issues in the past, but it doesn't mean you should focus on them instead of looking forward to a happier future together. Talk your issues out and explain your expectations from your relationship moving forward.
Sagittarius
December might throw your relationship off-kilter, for there can be numerous situations where you won't find common ground. However, this is not a sign you should consider ending the relationship – it's just the stars and planets playing. Patience will help you avoid some issues and mitigate the undesired consequences of arguments. In the latter half of реу month, you'll feel a sudden change in the atmosphere in your relationship, and things will be fine. To further strengthen your bond, consider going on a vacation together and focusing on each other.
Capricorn
December will start with minor bumps on the road you and your partner are taking. However, it won't be anything an honest conversation and time won't fix. Oh, and you won't have to make a special effort to show your partner how strong your love for them is because they already know how committed you are to them and your happiness as a couple. Lay low and wait the turmoils of the final month of the year out. Everything will eventually turn out just fine.
Aquarius
This December, Venus is positioned in a way that might cause some problems in your love life, dear Aquarius. But they can easily be fixed — by devoting enough of your time to talking to your partner, hearing their expectations and complaints, and just enjoying each other's company. Try doing that, and you'll feel how much closer —mentally, emotionally, physically — you can become. Your relationship will reveal the potential to withstand the hardships of life.
Pisces
Quite unexpectedly, this December might bring problems into your partner's life, and they will project onto your relationship. Dealing with these issues will require you to focus on the things that matter — and totally ignore anything that annoys you but doesn't have any actual meaning or value for your relationship. And if you help your partner through their problems and prove you will love and support them, your bond will become stronger despite all the challenges this December brings.
What to expect from 2024?
Your horoscope will give you more than just a hint!
READ 2024 HOROSCOPE