Best Ways to Spend Quality Family Time: Tips for All Signs
Bring joy to your loved ones!
We love to spend time with our families, as these precious moments are usually rare and therefore even more pleasant. Read on to learn it now!
What quality family time is the best idea for your sign?
We hope you already know it but in case you don't, there are some really cool activity ideas below. And if the one suggested for your sign seems a bit off, take a look at the tips for your family members' signs—you'll surely find something that will entertain all of you!
Aries
Belonging to probably the most active zodiac sign, Aries people appreciate movement more than anything. Action is life for them, and their family is not an exception. When choosing the perfect variant of time spending for you and your family, think of sports and competitive games.
Of course, you'll be happy to win the game, but even if one of your family members has an advantage over you it will never spoil the moment! Besides, you like to travel together with your close people and share your wildest and dearest wishes with them.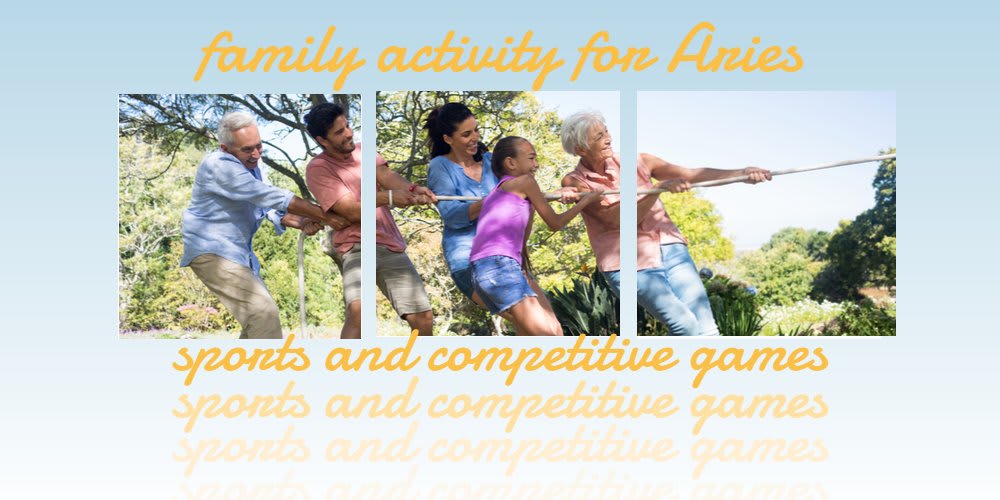 Taurus
Taureans love indulging their senses as well as the senses of their family members. When you're at home, organize a big dinner so that everyone in your family could enjoy the dear moments of peace and tranquility and recharge their batteries. Make sure you can like the process!
It's also important for Taurus natives to spend enough personal time with their family members regularly. They're the most tactile of all signs, so it's essential for them to be closer to their loved ones as it fills them with energy. Make sure your quality time is bright and unforgettable!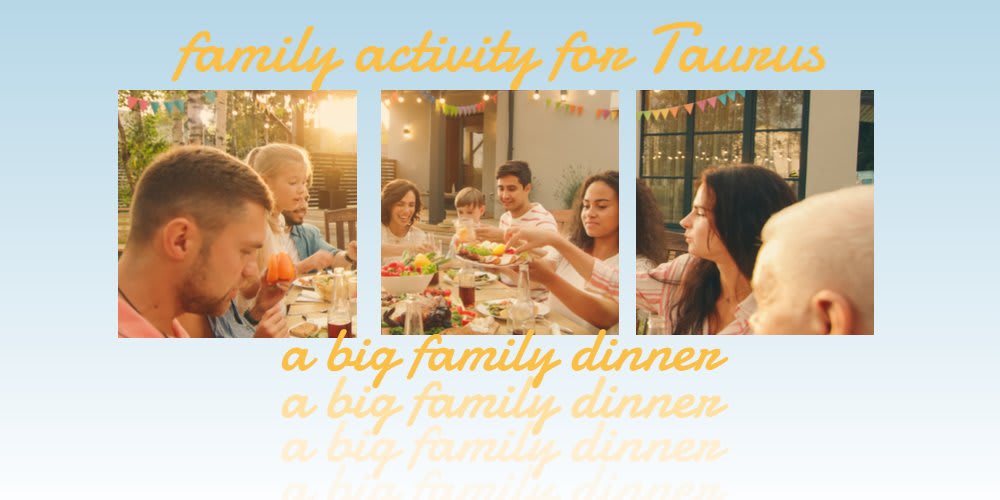 Gemini
There are two most characteristic features of Gemini reps – they love conversations but easily get bored if an activity lasts for too long. When Gemini people can't talk it means they don't feel alive. To make sure your family time is entertaining, practice stimulating conversations more frequently.
Besides, why not try having a great time playing fun word games? It's easy, it will involve your kids, and it will give you lots of pleasant moments! However, you need to be careful and avoid activities that occupy too much time, as you'll easily become disinterested.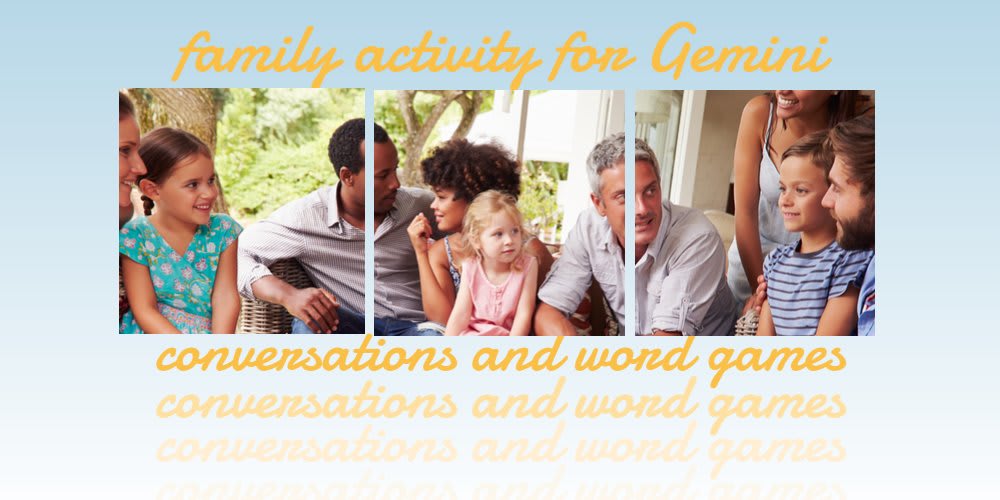 Cancer
You love your family more than anything, and you're more than happy when all family members gather around the fire and simply talk to each other. Your close ones feel harmonious when they're with you and this fact makes you pleased. Besides, you enjoy the time spend reminiscing about past days, so do it together with the people you love, too.
Watching old home movies and looking through family photo albums is a wonderful option, too. It will make you closer and help you recollect how idyllic and peaceful your life can be. Why not watch a sappy movie one night? You can share your ideas about the film afterward and this conversation will only make you closer.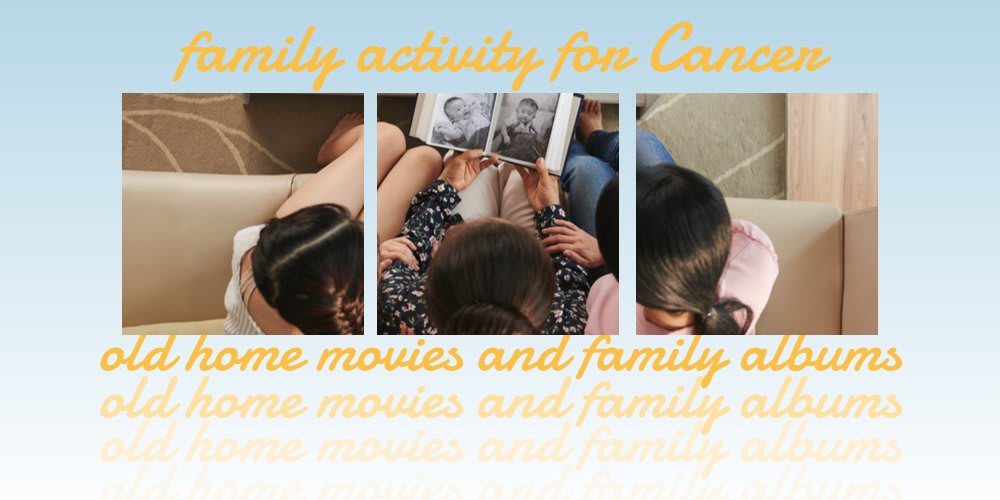 Leo
The kings of the Zodiac want to be bright in their family life as well as all the other areas of their life. To be in the center of everybody's attention is essential for them and the more often it happens the better. Throw family parties from time to time and invite the closest friends of your family to join you.
Make sure that some games and meals that you organize must contain an element of adventure. It will make you happier than ever before because you'll feel at ease. It's crucial for Leo natives to be in the heart of their tribe and be in the limelight as often as possible.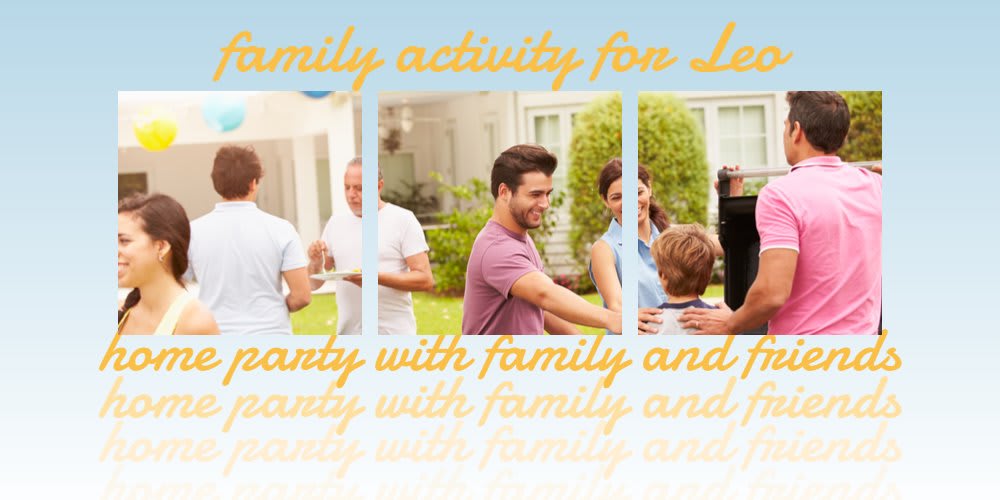 Virgo
For you, happiness means doing something, which means your ideal family activities should be practical and have a final result. Good variants include gardening, cooking, or exercising together. If you've never tried anything of the kind before it's high time you started doing it now!
Great variants for a quiet evening include talking, sharing fresh ideas, and reading. Choose a children's book that is interesting for adults, too, read it aloud, and spend quality time with your family with pleasure. You can also watch a good family movie and take a couple of lessons from it.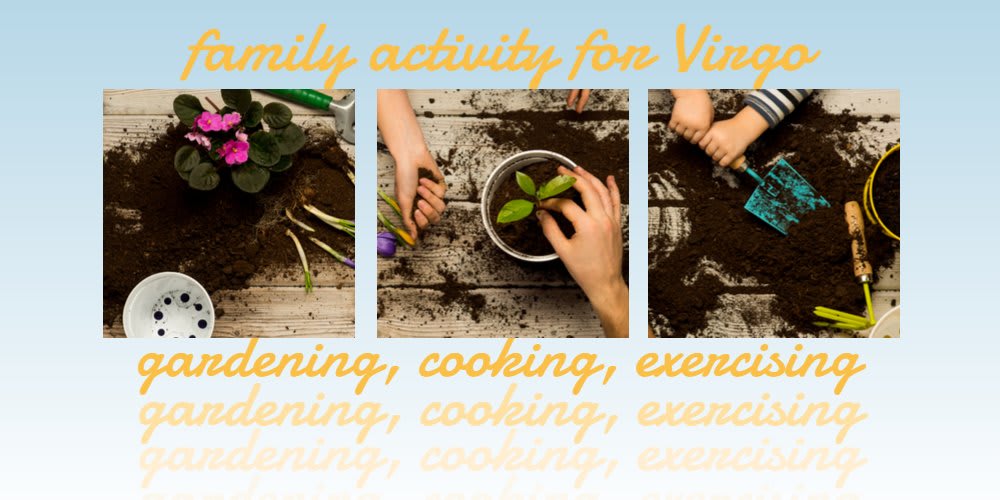 Libra
If we talk about sociable people, Libra natives are the first ones to come to our mind. It can't but tell on the nature of their family gatherings – they are perfect for you when spent chatting, discussing something, or paying compliments to each other.
It's not so important for you what to talk about as you can discuss almost anything from everyday things to the ideas that can help others change the world. Involve your close ones into the process and you'll see that they're closer to you than you may have thought before.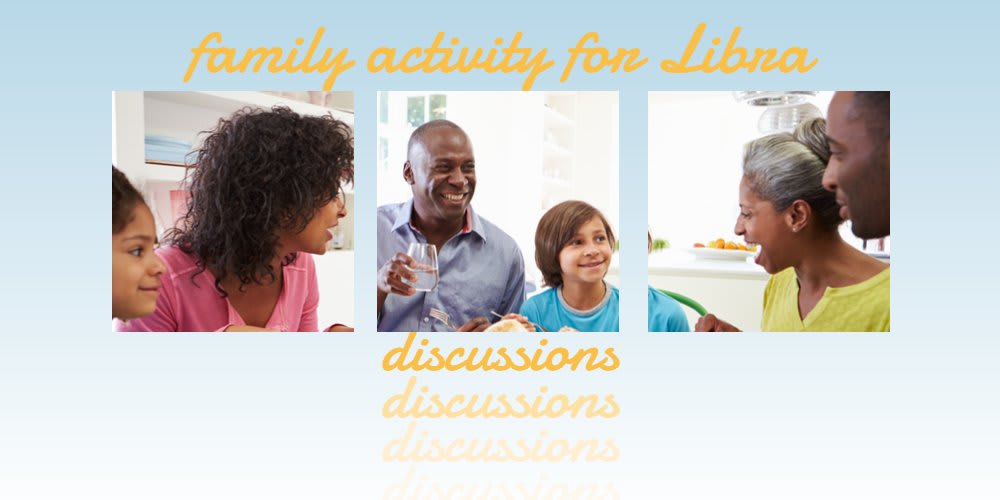 Scorpio
For Scorpio reps, if a subject isn't too intense and deep it becomes totally superficial. It means that when choosing family activities you always opt for something unusual – only the most challenging games, the most intense movies, and extremely sensuous music.
When doing all the things mentioned above don't forget about your family. Try to make all these activities interesting for them, too, as they need to feel involved and you need to feel their love and support. Be more attentive to their words and wishes and you'll soon notice that your life has changed for the better!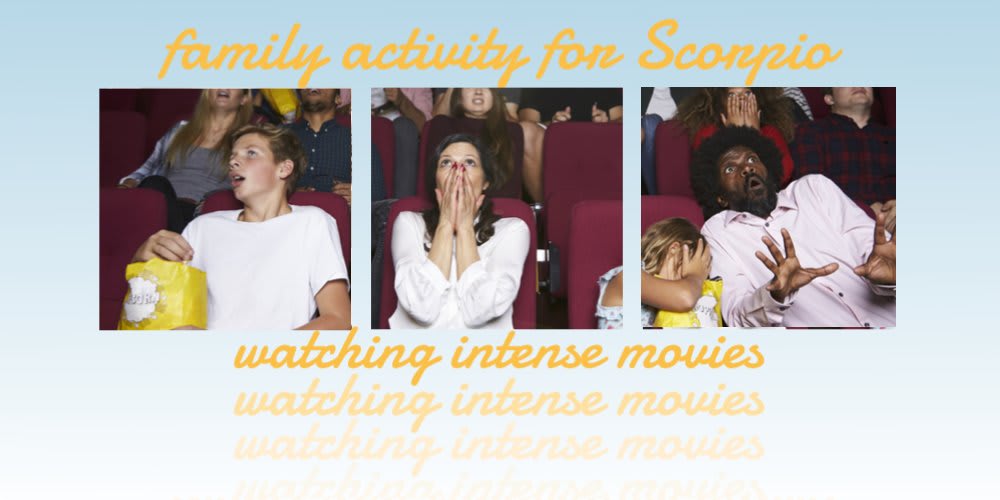 Sagittarius
Travelling is the activity that attracts you more than anything else, that's why spending quality time with your family visiting new destinations is the very thing able to make you absolutely happy. If you aren't going to hit the road right now, start with reading brochures and making plans.
Other things that interest you most include horseback riding, power walking, and even playing ball. In this way, you and your family members become stronger and closer to each other. However, quiet board games can also unite the whole family and make your evening exceptional.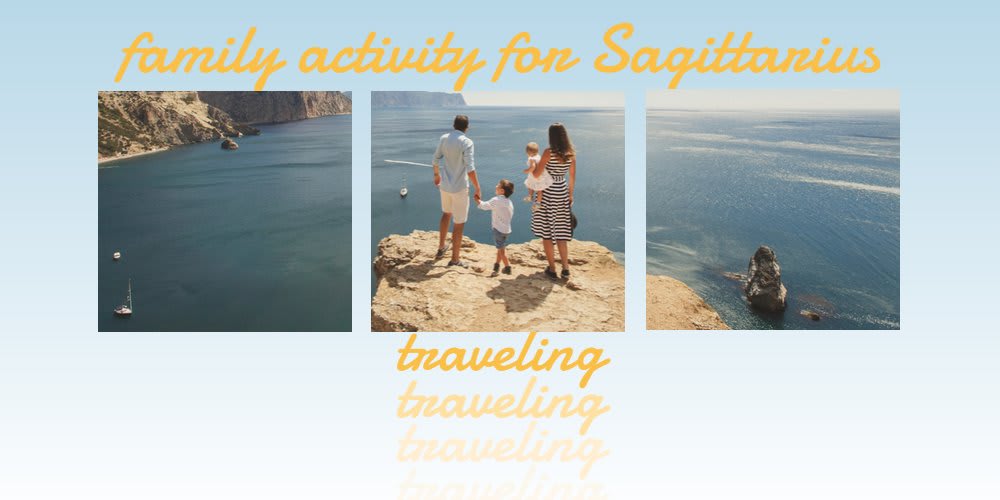 Capricorn
For Capricorns, the very idea of spending quality time with a family seems strange and sometimes unnecessary. Consequently, if a Capricorn person spends time together with his or her family members it's good of itself. Sometimes Capricorns push too hard at family gatherings, so the first thing they need to learn is that there is no need to be so demanding.
Try to indulge your family members as often as possible. Have a quiet walk in nature, talk to each other, have a great time in the way you see it. Your close people are sure to understand you and keep you a company. Or go to a quiet health resort with your loved ones and have a good rest there.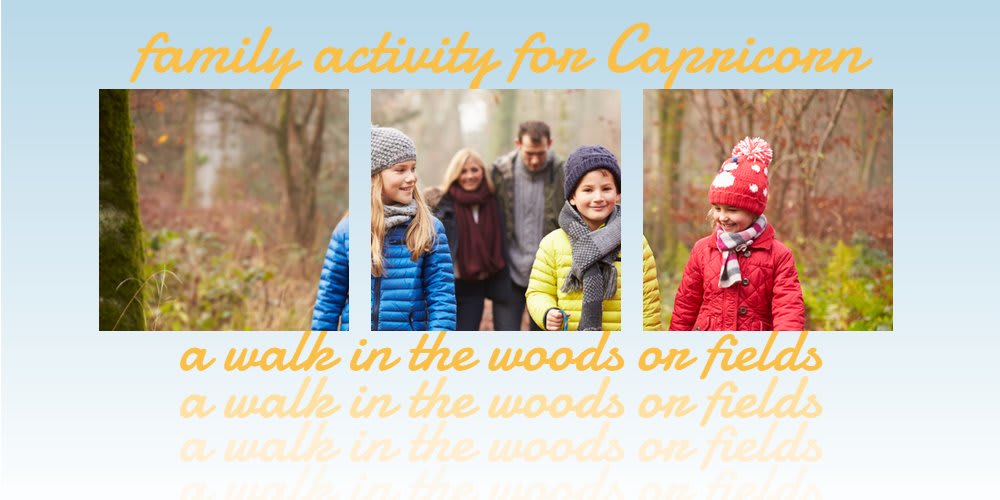 Aquarius
You like to do things without special preparations, so it's natural for you to have your family members coming and going. They must feel free to eat what they want and do what they want – listen to family stories, read books, or simply lie on a sofa doing nothing.
When choosing games for your friendly family gatherings, opt for high tech ones. When listening to music think of folk or cutting-edge varieties. If your close ones suggest any interesting time spending ideas that may seem strange to you, don't reject them at once – contemplate them first thoroughly and then take a decision.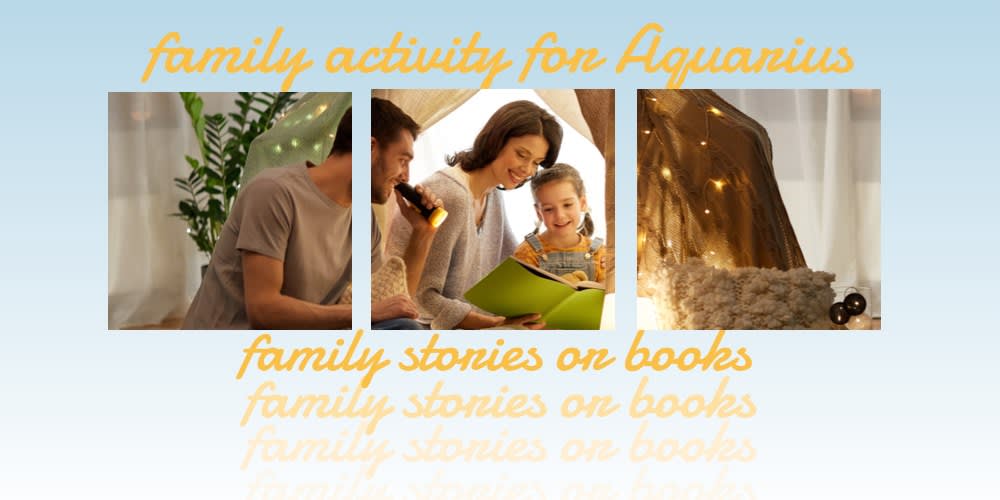 Pisces
You're eager to see your family members sharing each other's dreams. You love to spend time chilling out and would be glad if your kids or parents joined you. Family dinners are to be accompanied by quiet relaxing music to make the atmosphere at home more comfortable.
Sports you're participating in and games you're playing need to be gentle without any arguments. Spend more time in the open together playing various sports, invite some guests from time to time, and make sure they enjoy your family parties as much as all of you do.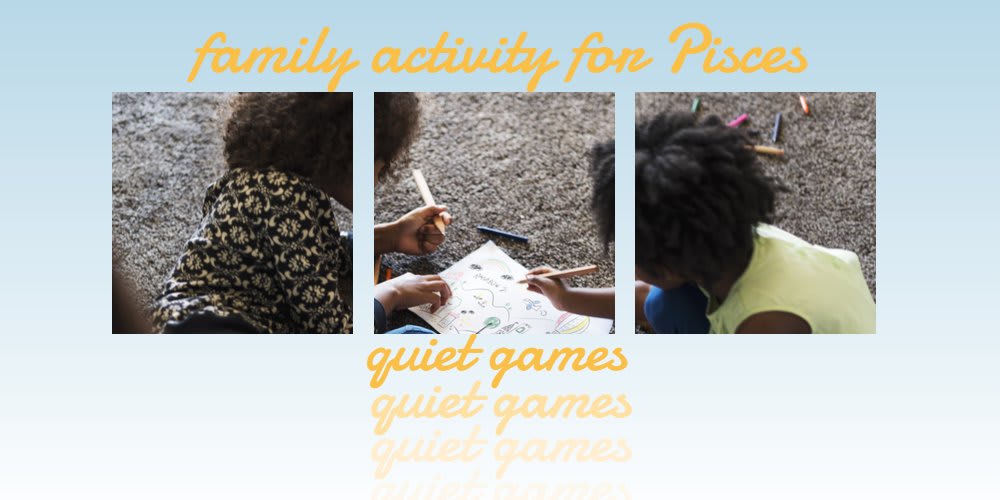 The next set of numbers is ready!
Explore the meaning of numbers 20 to 29 now!
Read now