Best Ideas for a Romantic Fall Date
Make the season even more romantic and unforgettable!
Fall has arrived bringing new dating opportunities. What suits you most – walking through fallen leaves, sitting by a fireplace, or having a ghost walk in the woods? Get helpful tips and make your fall date truly incredible!
Get exceptional date ideas for your sign!
Read on to find out how to enjoy your romantic life to the fullest this fall!
Aries
You don't belong to the most romantic sign, so candlelit dinners and long night walks will hardly make you happy. What you truly need is excitement, passion, and adrenaline rush. If you want to make sure your night out is successful, take your date to a football game and enjoy the match together.
You can't live without action, that's why chasing storms or traveling in a fast-moving train will surely fill your heart with the feeling of freedom and happiness. Running a marathon together is a great idea, too, especially in the fall when it gets cooler. Take the person you like with you, and if he or she shares your interest be sure you've found the right one!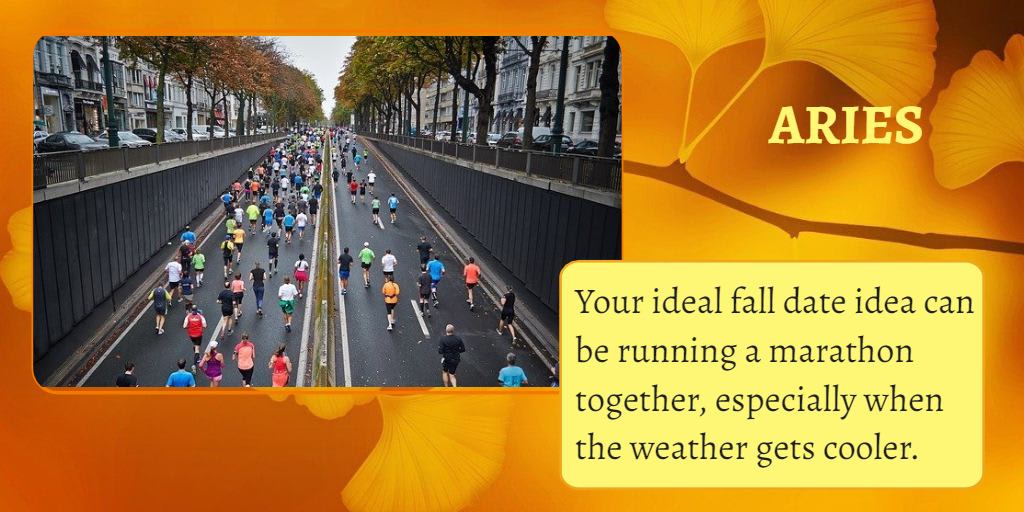 Taurus
Taureans prefer traditional romantic activities, so the best fall choice is having a horseback ride in the countryside admiring the autumnal beauty. This old-fashioned romance will cheer them up and fill their heart with harmony. After the ride, find a nice and cozy place like an old inn for dinner and don't worry about the bill too much, as you know that the more you pay the more you get.
You'd better plan a weekend getaway with your significant other to bask in the warm fall sun for as long as you want. Choose a hot spring for your final destination, go hiking, and then spend a couple of hours having an invigorating bath soak. Spending a day in a picturesque old town with your partner is sure to make you a bit closer!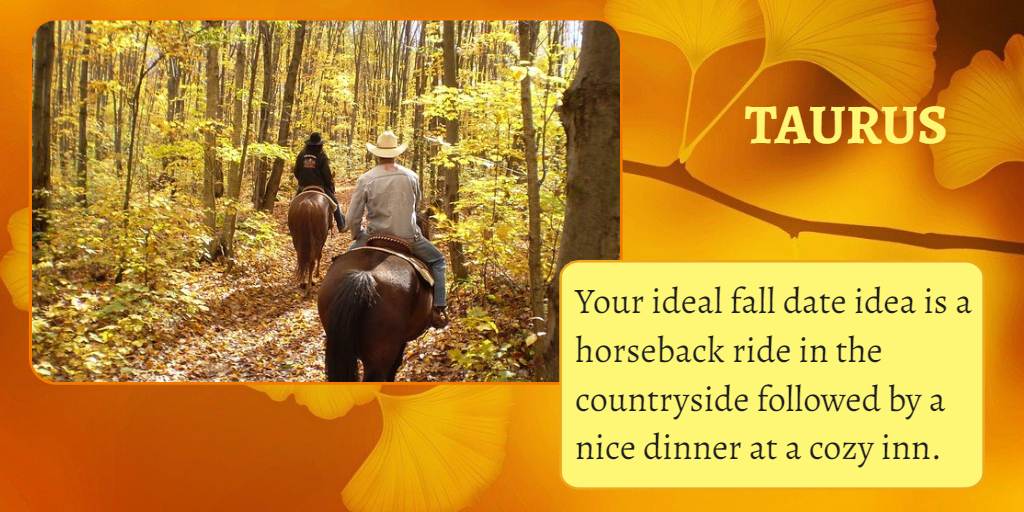 Gemini
Gemini natives are known for their sharp mind and genuine interest in the political life of their country. Invite your soulmate to visit a political rally if you want to kill two birds with one stone – you'll both boost your knowledge on the issues discussed and check if the person you like shares your viewpoint.
Fall is a good time for chilling out, too, so you may think about an outdoor activity for you two. Choose something like archery or rock-climbing – it's refreshing for both your mind and your body. Don't forget to leave your mobile phone behind so that no one could invade your privacy.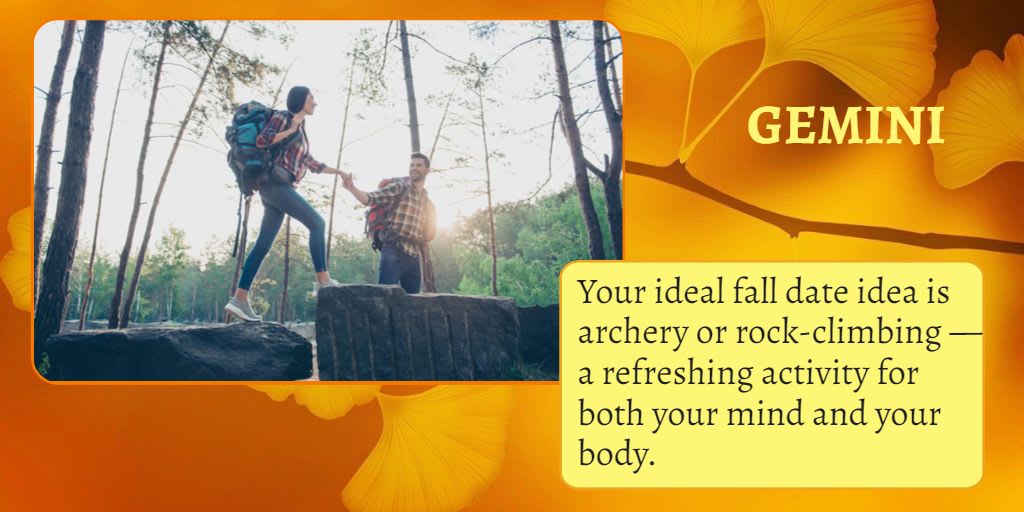 Cancer
Cancerians love to take care of others and spend a lot of energy doing it, so your perfect date is the one during which you can relax without thinking about anything serious. This fall, the best choice for Crabs is a classical cool-weather date: prepare some hot cocoa, wrap yourself warm, and spend the evening at a fireplace or watch an old romantic movie.
Another great idea is spending the whole day outdoors. Your ideal fall date can look like this: drive to the mountains, then have a daylong hike, and finish your day lying in warm clothes and looking at the stars. You can also invite your significant other to visit your relatives who live at a distance and have a walking tour in the area together.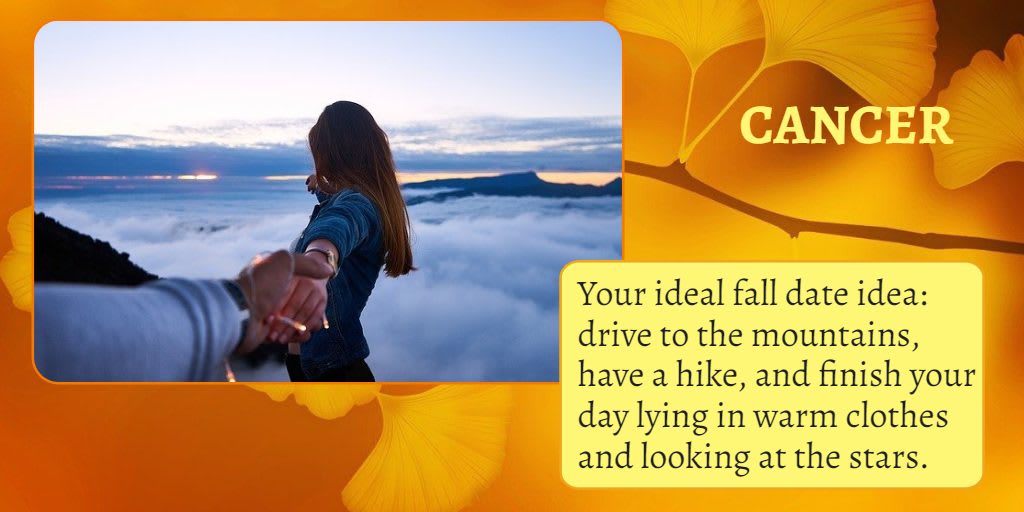 Leo
Lions are the kings of the zodiac jungle, that's why their dates need to be as extravagant and impressive as possible. Your romantic fall getaway should necessarily include all of the following components: breakfast in bed, a relaxing hot tub, and warming yourself by the fireplace.
If you're eager to spend more time outdoors with your lover, there is no better fall idea than horseback riding. Enjoy the brightness of trees together and feel the wind whipping through your hair! Want something more adventurous? Then try mountain-climbing, as it will do good to both your mood and your body.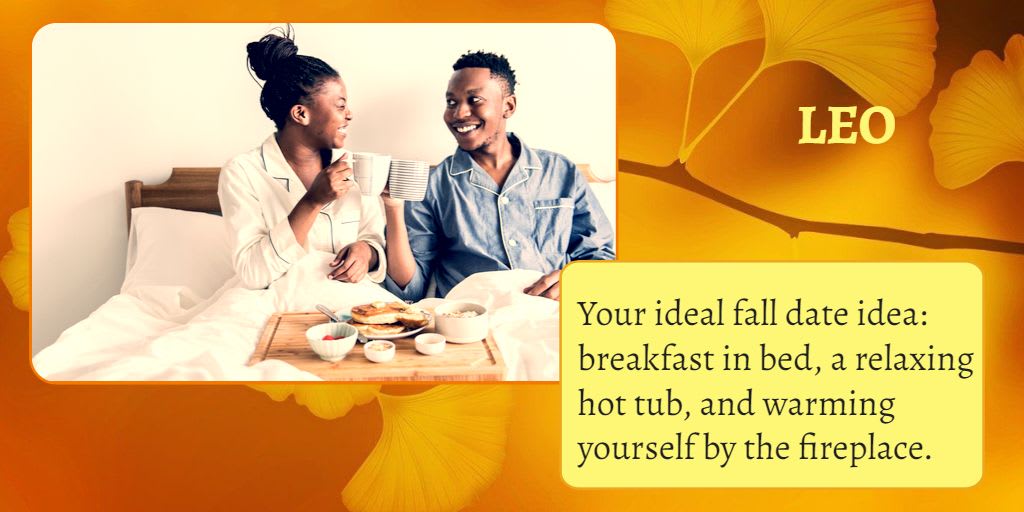 Virgo
Virgos are extremely eco-friendly and care about their health a lot. They would love to spend a day on a farm with their loved ones becoming closer to nature and to each other. Prepare a pumpkin soup or an apple pie when you finish gardening, or just relax and let your partner do all the job – you deserve a bit of rest.
Besides, you can visit a local harvest fair together and spend the day enjoying the animals and tasting delicious farm products like goat cheese or homemade apple jam. If you want to let more beauty into your life, invite your better half to have an excursion to a lavender field and pick a couple of blossoms for sachets!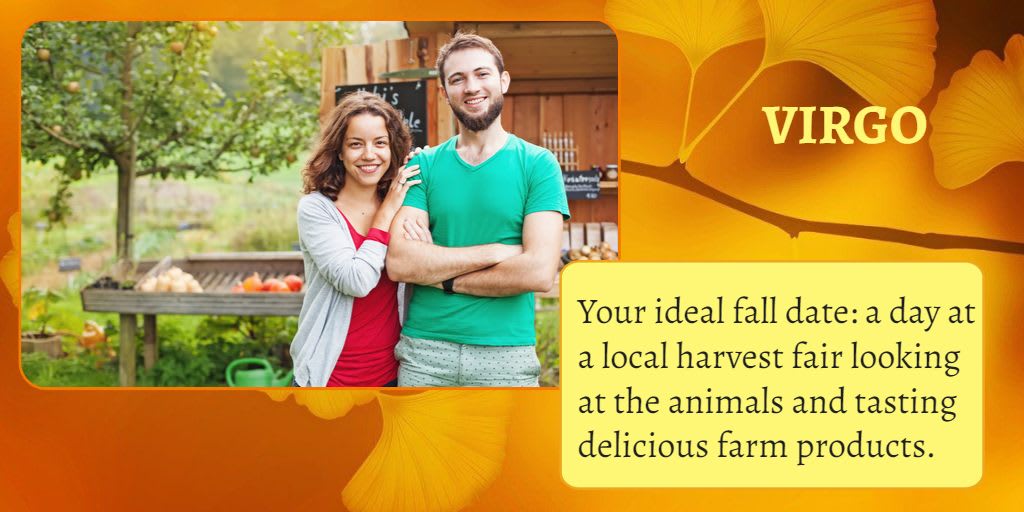 Libra
You want to be surrounded by sophisticated things and people able to appreciate it. This fall, encourage your partner to have a vineyard tour but don't forget to read a few pages of Wine-Tasting for Dummies first if you don't know what's what about wine.
Another alluring fall date idea is a romantic walk along a beach at sunset. In case there is no sea in your region you can take a short trip to the nearest lake and watch ducks playing. One more appealing opportunity for the two of you is visiting shops that sell clothes and accessories from other countries and continents – you'll definitely have fun shopping together!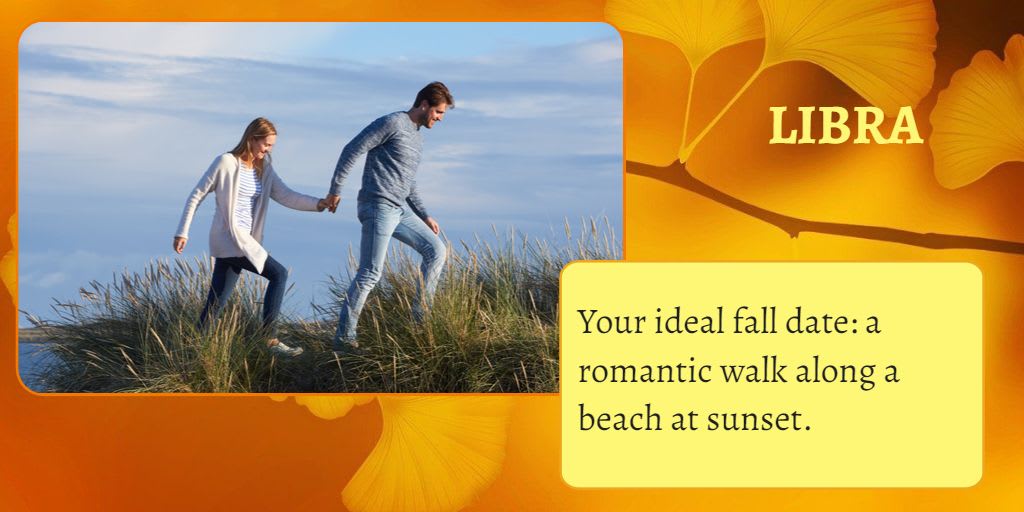 Scorpio
Scorpio reps love to solve puzzles, so why not try something like a corn maze this fall? Take part in the activity together with your better half and see who of you will finish it first! If you want to spend your date in a creepier way, visit a haunted house located in your area – this romantic outing is sure to be unforgettable!
It's essential for you to go away from time to time, but this fall, don't forget to take your significant other with you to make the journey more pleasant. Think of an excursion to deep dark woods – this place will revive your soul and give you a unique chance to have a truly intimate conversation.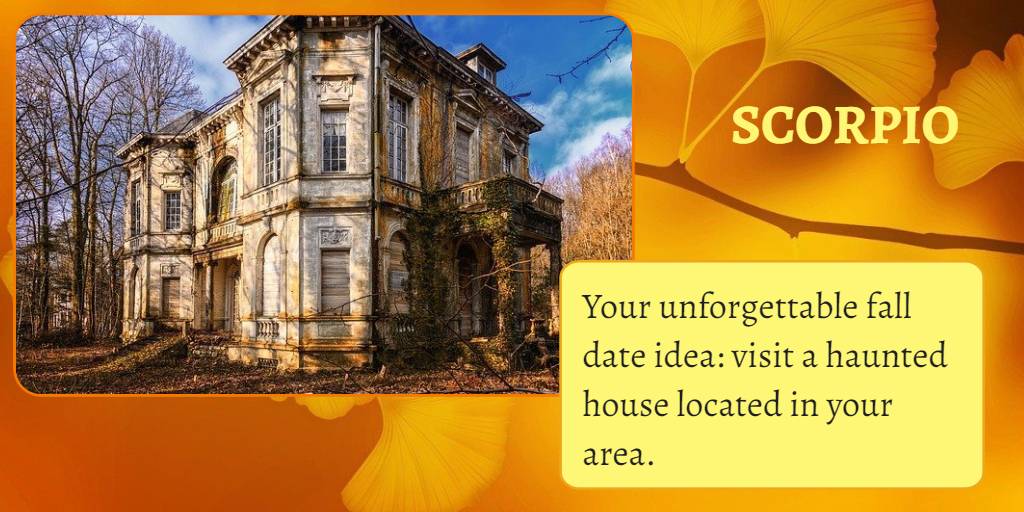 Sagittarius
Sagittarius natives are the well-known zodiac adventurers, so to be on a roll you need your date to be organized in a truly special way. Try hiking to a peak together with your soulmate – you'll see that this place will instantly put you in the right mood for love.
Your date will have to prove he or she deserves you if this person is willing to accompany you on your journeys. You can also invite your lover to travel to a neighboring city or other places that you've never seen before. Together it's much more pleasant to visit observatories, art museums, and even small shops!
Capricorn
Capricorn representatives like the feeling of achievement and accomplishment, so in the fall the best date activity for you and your partner is raking leaves. However, you don't like it when your creations are destroyed, so make sure you ask your soulmate to leave the leaf pile as it is.
You're deeply interested in the past, so check if your significant other shares your interest. Take a trip to the local flea market together and look for exclusive and rare treasures. You may also visit a natural history museum, a historical landmark, or even plan a desert trek! Every place will look attractive if you're there together with the one you love!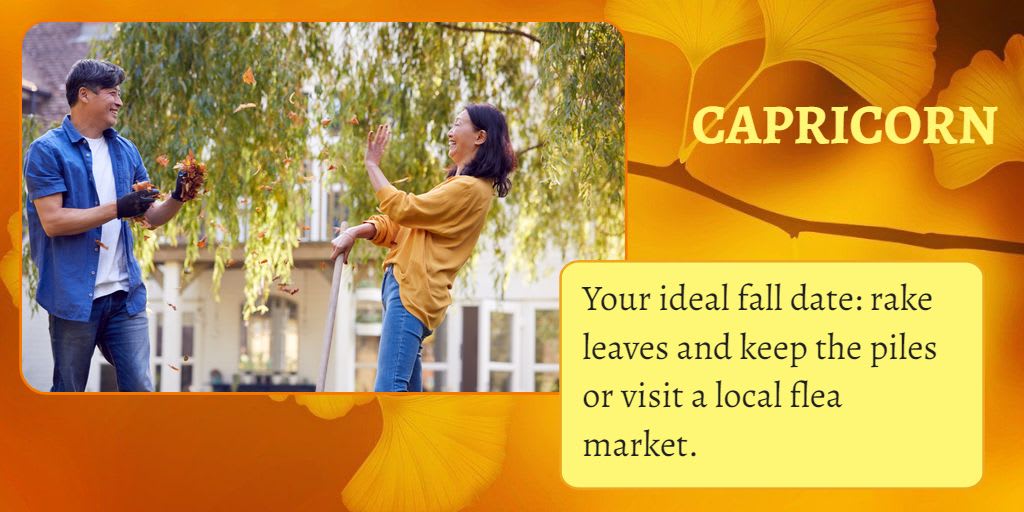 Aquarius
Aquarians are known for their passion for weird things and working in groups, so keep it in mind while planning your perfect date. First, choose a group tour and have a ghost walk – it will satisfy their interest in supernatural forces and activities. Second, think of humanitarian activities like cleaning up a park for winter as people born under this sign like endeavors of this kind.
You can also encourage your sweetheart to participate in a sport as fall is the perfect time for it. It's refreshing, good for your health, and will make you feel like a child again! If you're eager to make your house a bit greener and cozier, you can plant some edible plants in your garden together – it's entertaining and truly uniting!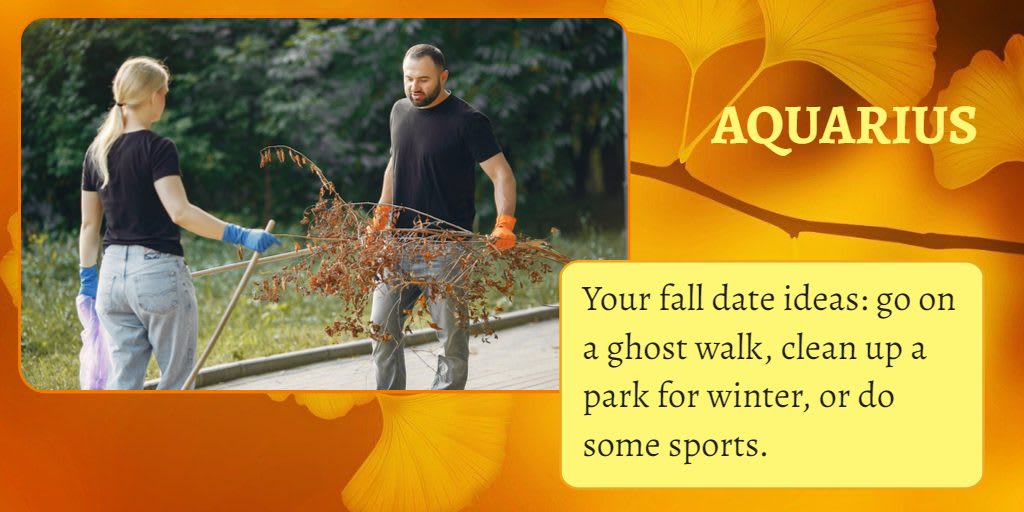 Pisces
You're the naturally born dreamer of the zodiac, that's why you need to feel the emotional connection between you and your partner. To become closer spiritually, take him or her on a yoga-in-the-wild trip. You'll enjoy marvelous landscapes together and get a chance to learn to understand each other better.
Your perfect autumn outing ideas include visiting a marine park or a spa center together, too. You'll truly enjoy whale watching or spend a wonderful weekend getting pampered and having a delectable fish dinner afterward. Work up the courage to try hot air ballooning – it's going to be fun!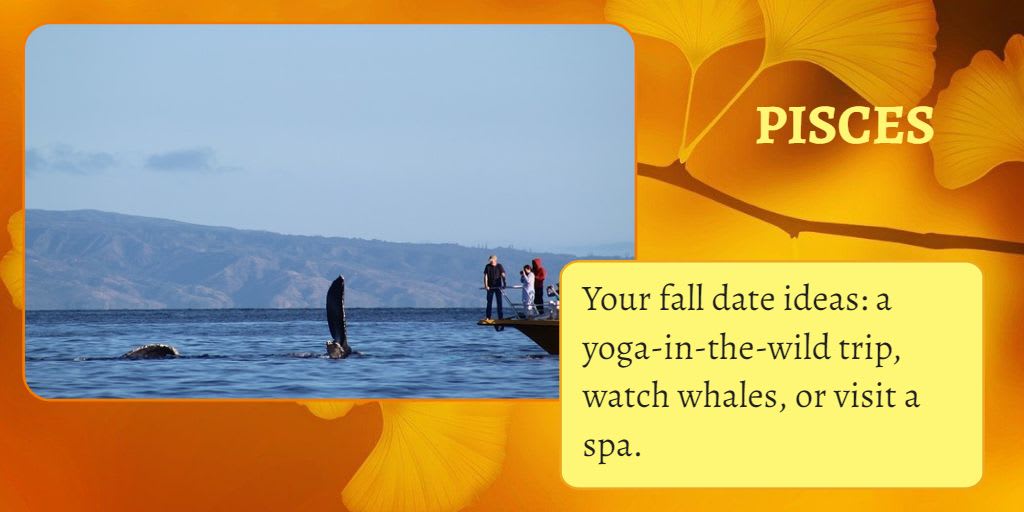 This reading is perfect for every sign.
Here's something that can make every sign happy – check out this reading now!
See runic prediction