Job Interview Tips for Your Zodiac Sign
Don't leave your career up to chance — follow smart astro-advice to land that dream job!
Are you ready for your job interview? With our tips, you will know how to show yourself in the best light.
Boost your career with interview tips for your Zodiac sign!
Find your sign and get your astrological advice!
Aries
Your strong suit is your enthusiasm and initiative. Arians are famous for their leadership qualities, and you always know what you want and how to achieve it. Make sure that these qualities of yours are explicit enough and your potential employer notices them. Show your eagerness to get into gear and be in the lead. However, you should watch out for giving the wrong impression. Here comes your greatest weakness. Sometimes you can be too driven to the point of obsession. To avoid scaring off your interviewer, do some physical exercises to reduce some tenseness.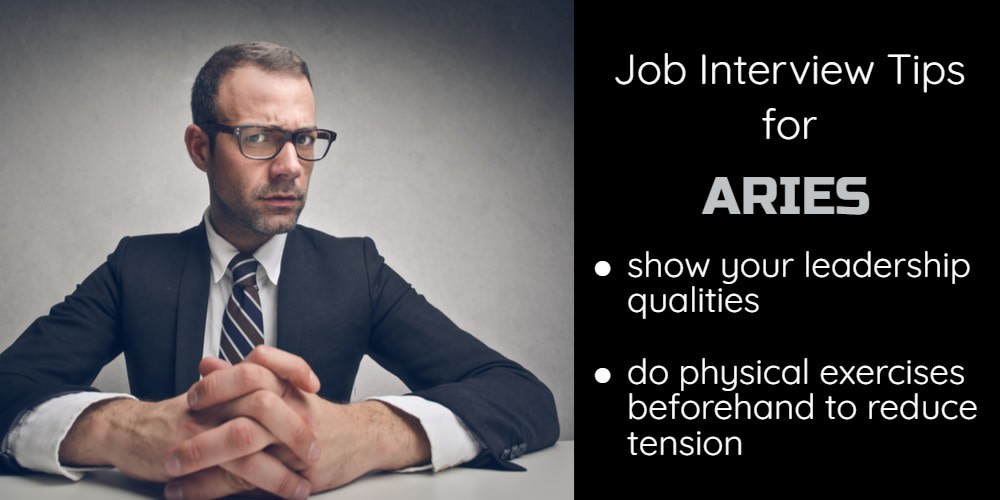 Taurus
Your strengths consist of endurance and pragmatism. Be sure to mention these qualities at an interview. Most people get really bored and frustrated while doing repetitive work. You are the one who can cope with such difficulties maintaining high performance. However, be on your guard as your laid-back nature may be taken for laziness. Tell your interviewer why this job seems interesting to you and show your enthusiasm. Try to avoid being too methodical and thorough. Employers value flexibility and the ability to adjust to new circumstances.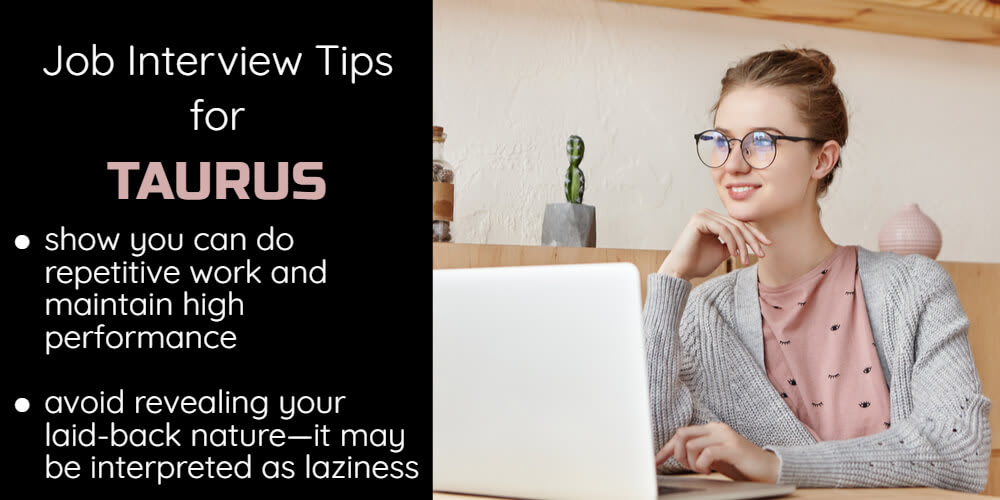 Gemini
Being an air sign gives you such strong points as adaptability and quickness. It is easy for you to hit it off with new colleagues and adjust to new circumstances. Thus you don't need much time for the adaptation process, and you can get into gear right from the start. You may seem too anxious at a job interview. Try to set you're your mind at rest, take a deep breath, and you'll be able to calm your nerves. Another weakness that you need to work on is that you can come across as a salesperson. Polish your public image to improve the impression you make.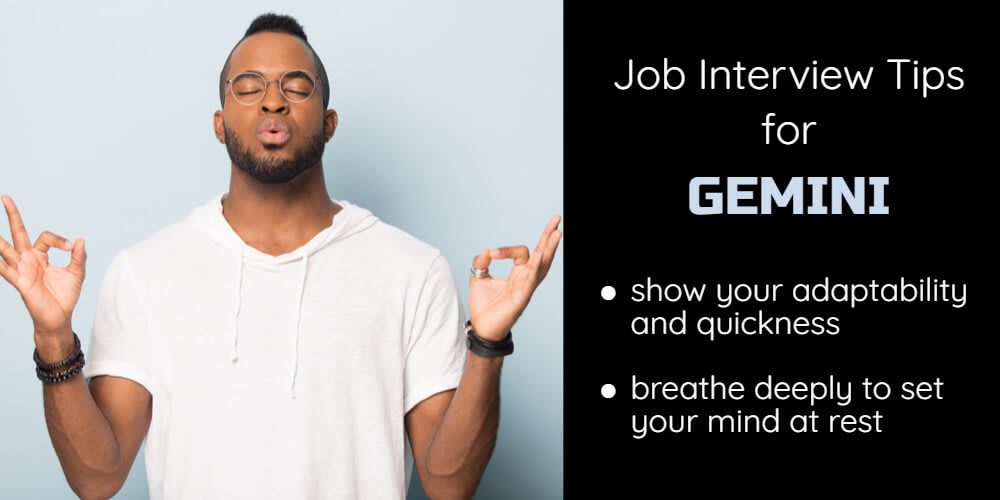 Cancer
While preparing for your job interview, make sure you place emphasis on your resourcefulness and practicality. You can be relied on when it comes to finding creative and at the same time practical solutions. These invaluable qualities will surely be to your advantage. Taciturn Cancers don't like letting other people in their inner world. Try to reveal more of your unique personality. You will also need to work on your weak points. It is difficult for you to deal with risks. You are not an adventurous person and can be exceedingly cautious. Have more confidence in yourself!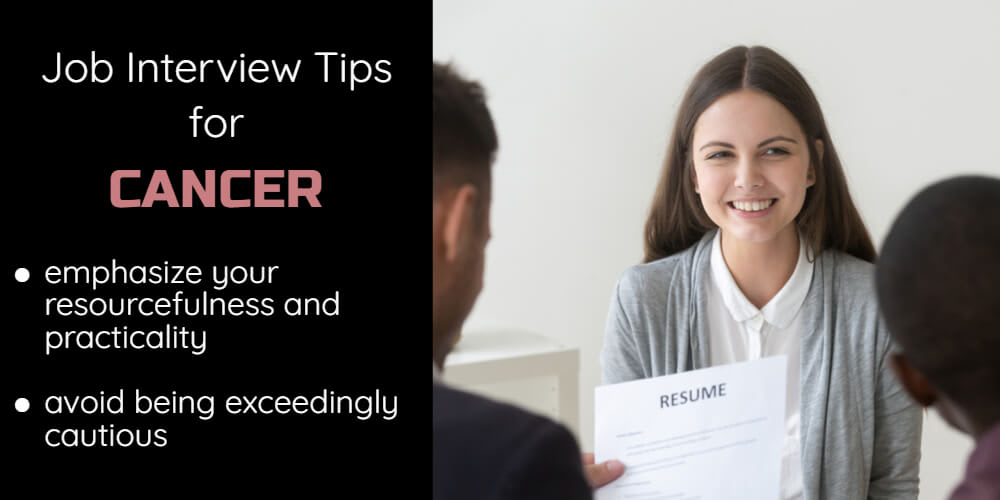 Leo
Confident and creative Leos mostly make a good first impression. Your public image is of great importance to you, so you will definitely be able to show yourself in the best light. Your creative approach will also be to your advantage. Put emphasis on your inventive skills. The other side of the coin is that you may appear over-confident and even headstrong. Of course, it is important to show your accomplishments, but make sure that you pay enough attention to the job itself and why you are interested in it. Also, try to gain control over your need for acknowledgment.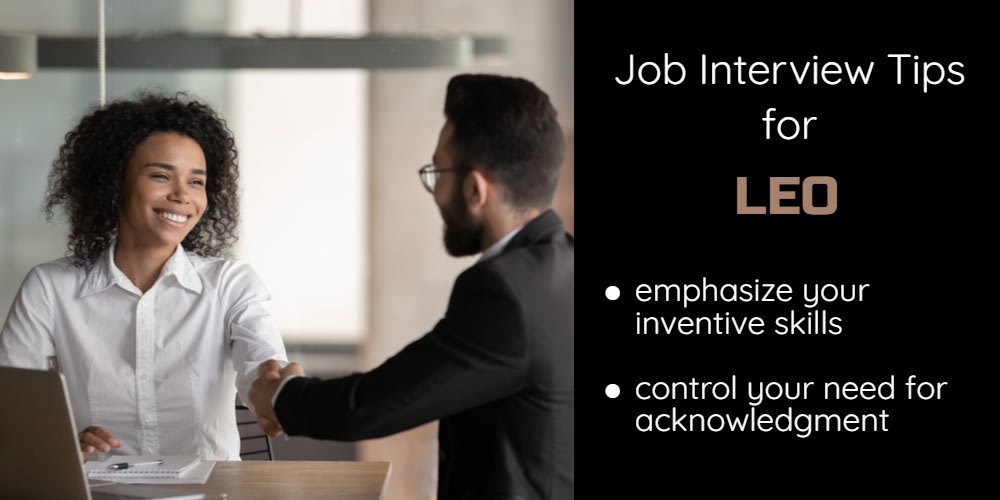 Virgo
Your strong suit is your precision and versatility. You are the person who comes to work on time and carries out tasks exactly they are planned. Your ability to adapt to new circumstances is also to your advantage. Make sure you highlight these qualities while describing yourself and your accomplishments. Don't sell yourself short! You are a skilled worker and a seasoned professional. Let your employer know about your strong points and don't be shy. Your greatest weakness is being overcritical of yourself. Your desire for perfection can make you disappointed, so don't be too hard on yourself.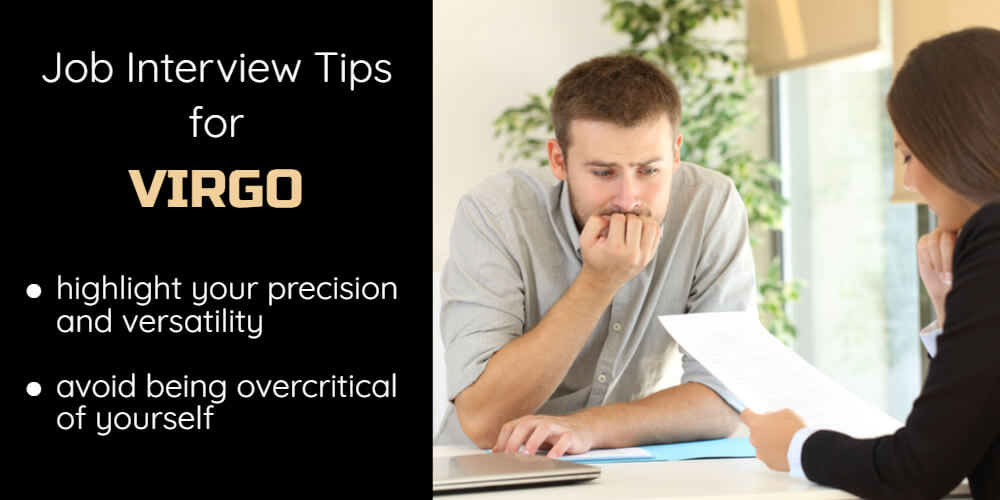 Libra
Your social skills and fairness deserve the leading role in the presentation of yourself. You can easily come into contact with people and resolve conflicts to mutual satisfaction. Lay emphasis on these strong points and let the interviewer know how invaluable you can be at the workplace. Be on your guard against seeming superficial. Show your potential employer that you know exactly who you are and what your goals are. Another weakness that you need to work on is your readiness to see another's point of view. In many cases, only one standpoint is acceptable at work.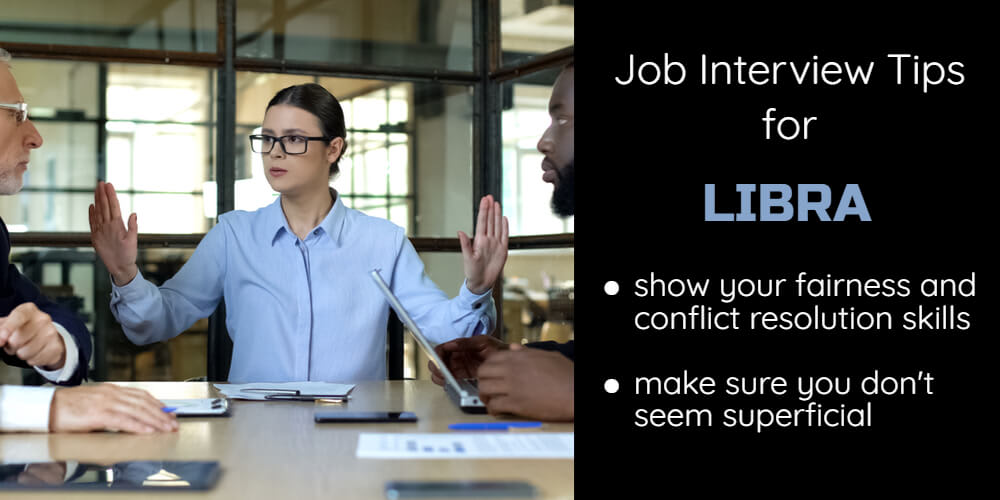 Scorpio
Your loyalty and focus are your most advantageous qualities. You are the person who will work hard to promote the company's brand image. You can concentrate on this task making it your top priority and putting all your personal issues aside. Let the interviewer know how focused you are! While discussing a job opportunity with your potential employer, try to show more passion for the position. Your composure and self-respect can be mistaken for the lack of interest. Another weak point that you need to deal with is that you can be too single-minded. Try to understand other people's points of view as well.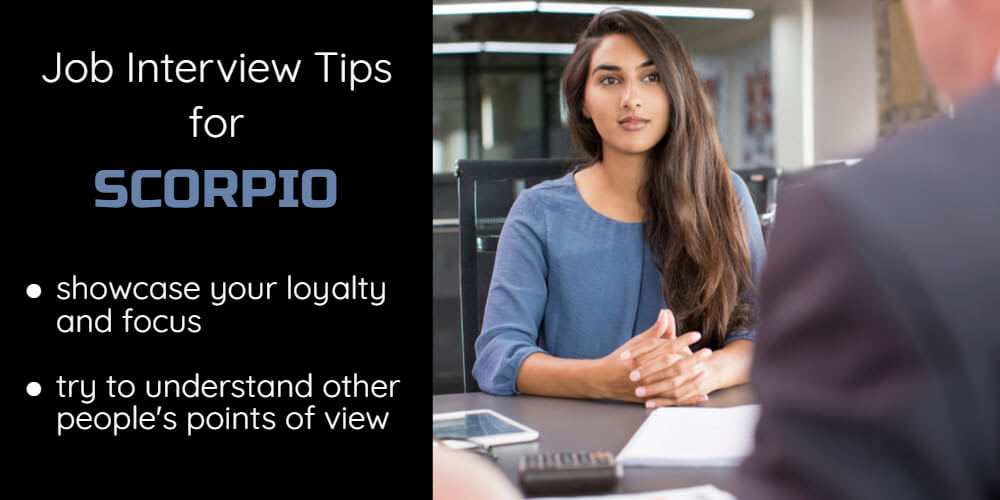 Sagittarius
Your strong points are enthusiasm and flexibility. You are eager to get into gear and always support any novelties. The ability to adjust to new circumstances is also to your advantage. You don't need much time to adapt to staff members and work procedures. Let your probable employer know about these qualities! Your self-confidence can become your enemy. So don't exaggerate your skills. Prepare a speech for the interview rather than play by ear. You can also become overwhelmed by too many ideas. So, for you, it's better to concentrate on the most important things and lay less urgent issues aside.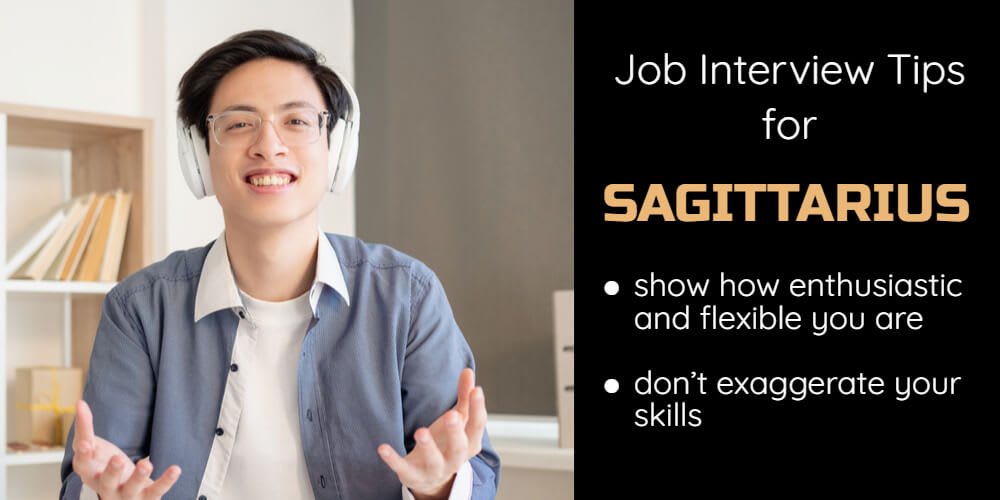 Capricorn
The workaholics of the zodiac signs, Capricorns are famous for their professionalism and perseverance. You attach great importance to your career opportunities, so you work hard to achieve your goals. Where others are ready to give up, you persist until positive results. Your serious approach has the other side of the coin. You may seem too stiff. So try to show more of your personality. Another problem that you may face is that sometimes your standards are too high. Come down to earth; nobody is perfect in this world.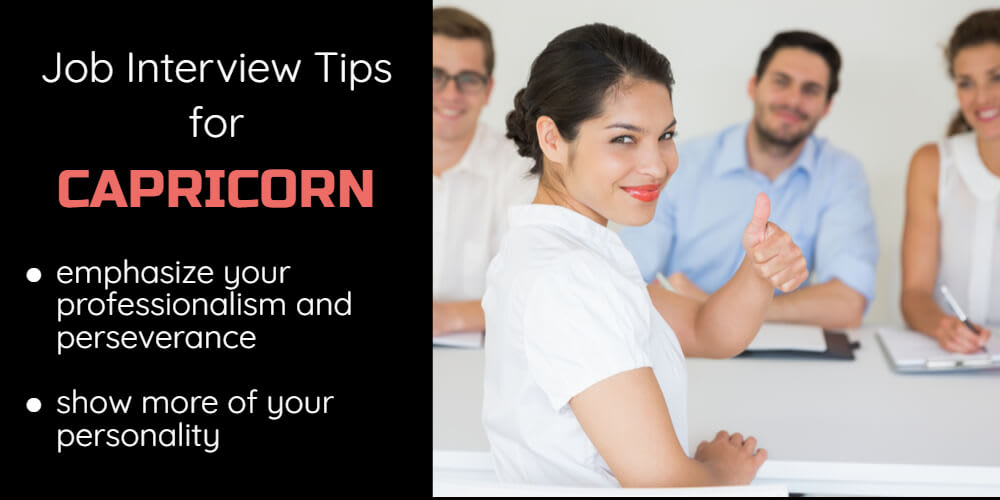 Aquarius
Your strong point is the ability to work in a team. Besides, you are great at finding creative solutions and introducing innovations. Not every person can find common ground with numerous people. Highlight these qualities while discussing your job opportunities with the interviewer. However, be in your guard against looking smarter than your interviewer. Nobody likes know-it-alls. Everybody knows that you are truly a clever person, just don't try to impress too hard. Your expertise in teamwork can also become your weakness. So show your potential employer that you can work on your own.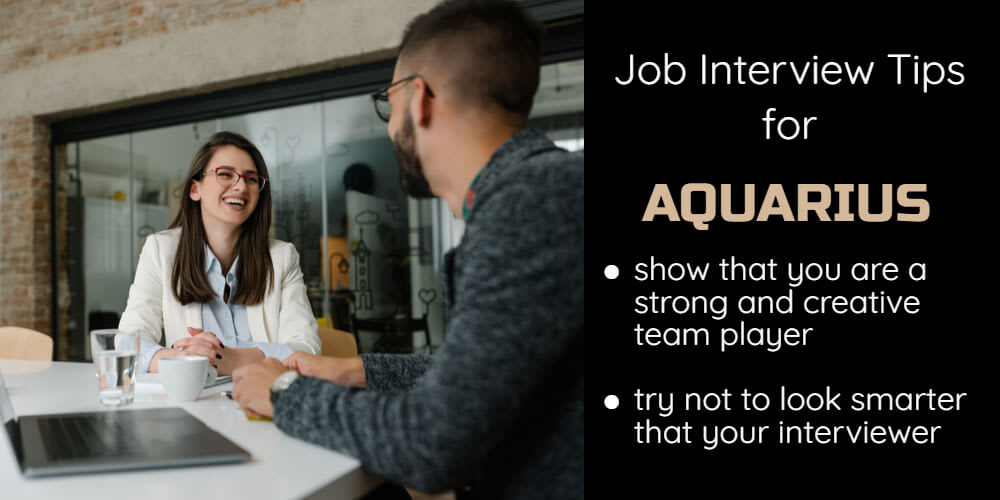 Pisces
Your strengths consist of intuition and flexibility. When reason fails, you manage to sense what the right decision is. Besides, your adaptability allows you to thrive almost in any circumstances. Let your potential employer know about your invaluable qualities. They will surely be appreciated! However, your anxiety may become an obstacle. Try to take your mind off stressful things, breathe deeply and learn to trust your instincts. Your sensitiveness to other people's feelings can also be a weakness. Quite often it's more important to stand your ground.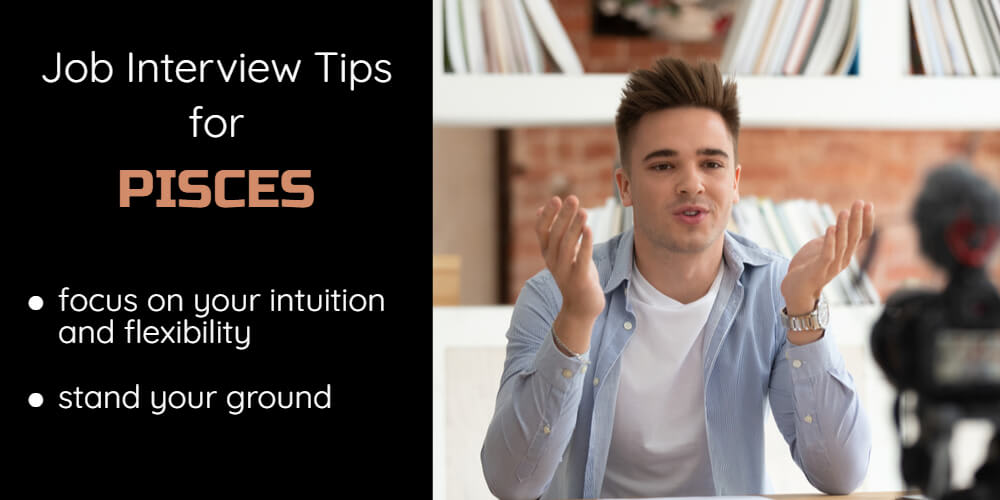 Don't know what to do with your career? Ask the Tarot!
Get a personal reading and learn all about your career perspectives and changes, objectives and how to achieve them.
GET A CAREER READING